Posted
April 23, 2006 by Mike Mineo
in Features
MUSIC DOWNLOADS: The Comsat Angels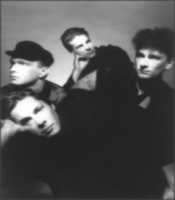 I can think of several bands that are regarded as one hit wonders, despite an impressive discography that went mainly unnoticed. One of the bands that come to mind in this area are The Comsat Angels. Hailing from Sheffield, England, their sound is mainly post-punk with several light synth moments. Coming together around the time of Joy Division and The Chameleons UK, their sound is very similar, therefore resulting as another band that influences many modern day indie bands. After a few years of playing shows under the name of Radio Earth, they renamed to The Comsat Angels and changed their sound. After borrowing some money from their parents, they sent their first EP, entitled Red Planet, to the famous radio mastermind John Peel, who loved it and the band later appeared on the Peel Sessions. They released their first two albums, Waiting For A Miracle and Sleep No More to warm applause and the two remain one of the more productive albums of the 80s. After several albums of a more synth variety, they went under the name Dream Command for one album, which recieved disappointing reviews. They rebounded in the early 90s with two more successful and more modern albums before disbanding in 1995. All four members continue to still work in music as managers, producers, and musicians.
These three songs are from their most acclaimed album, Sleep No More. The outstanding 'Eye Dance' kicks off the album with defining charisma. The droning chorus as Stephen Fellows' dark vocals take a familiar but defying route, as he sings "If I asked you, what would you do? Would you think it over?" An immediate hook is signified, setting the stage for an album full of them. The other two songs, 'Be Brave' and 'Gone' are traditional post-punk growers, but the echo of the guitar and vocals combine will leave a memorable sting in your mind. While their sound is enough reason to see why they were never given a good reception in America during the time of silly synth pop of the early 1980s, they remain one of the bands who were later recognized as a significant influence on modern music.
————————
[audio:http://obscuresound.com/mp3/comsat_angels-eye_dance.mp3]
————————
[audio:http://obscuresound.com/mp3/comsat_angels-be_brave.mp3]
————————
[audio:http://obscuresound.com/mp3/comsat_angels-gone.mp3]
————————
Mike Mineo
I'm the founder/editor of Obscure Sound. I used to write for PopMatters and Stylus Magazine. Send your music to
[email protected]
.