Posted
May 11, 2006 by Mike Mineo
in Features
MUSIC DOWNLOADS: The Keene Brothers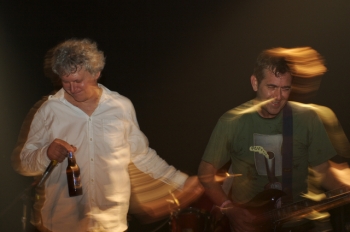 The Keene Brothers is a collaboration between two well-respected and well-travelled musicians. Half of the duo is Guided By Voices' Robert Pollard, whose unlikely success emerged him as one of the forefront figures in alternative rock. The other half is Tommy Keene, a name not as well known as Pollard (for some unknown reason), but he certainly has the equal musical talent. He has been around for quite some time, with a dedicated fanbase, and he has been creating fantastic songs for over fifteen years. Both artists are having a very busy year, as Keene is releasing Crashing the Ether, his first album since 2002. Pollard seems to always be busy, as he is releasing several albums this year.
Their moniker, The Keene Brothers, are releasing an album this year entitled Blues And Boogie Shoes. Two songs are below, including the excellent 'Death Of The Party', which should be a single as it is the track that will grab your attention the first listen. 'Island Of Lost Lucys' is notably slower, with a stellar chorus. Though Keene doesn't like the term 'power-pop', there are definitely shades of it in their new album. Regardless, it's definitely worth a purchase.
————————–
The Keene Brothers – Death Of A Party
[audio:http://obscuresound.com/mp3/kbro-death_of_the_party.mp3]
————————-
The Keene Brothers – Island Of Lost Lucys
[audio:http://obscuresound.com/mp3/kbro-island_of_lost_lucys.mp3]
————————–
buy Robert Pollard's newest album: From A Compound Eye
Mike Mineo
I'm the founder/editor of Obscure Sound. I used to write for PopMatters and Stylus Magazine. Send your music to
[email protected]
.