Posted
August 23, 2006 by Mike Mineo
in Features
The Isles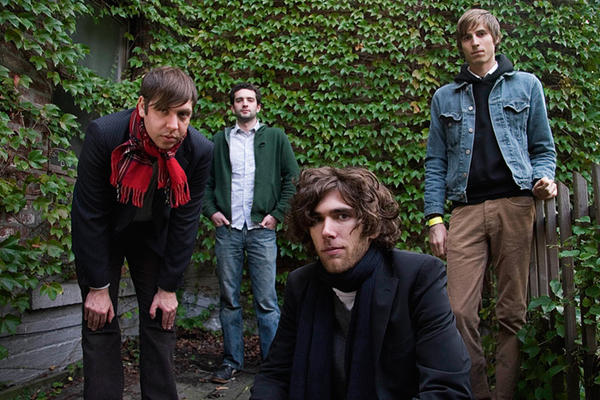 I wonder how far a review of The Isles can go without mentioning The Smiths… not very far at all, it seems. The comparison makes its point though, as vocalist Andrew Geller has obvious similarities to the breezy and melancholic vocals that Morrissey has used so well in the past three decades. While the influence of jangle pop has been starting to uncover itself steadily over the past few years, The Isles take it in stride. The most surprising thing that I find about the The Isles is that they are from New York and not the UK. Their sound is heavily inspired by the acts of Britain in the 80s, such as The Smiths, The Housemartins, Squeeze, and The Stone Roses. Their debut album, Perfumed Lands, released a few weeks ago in the USA and will see an October release date in Europe.
One of the highlights off of the album is the opener, 'Major Arcana', which opens up with the traditionally favorable mixture of acoustic and jangly stop n' go electric guitar, followed by an active bass coming into play shortly thereafter. When Geller's vocals are introduced, immediate nostalgia is tossed into the mind of any Smiths fan. The pessimism the fans are used to is shown full-fledged in the beautiful 'Eve of the Battle'. "I would call your name, you would feel the same," Geller states with a typical Morrissey-like rhyme, "I care for nothing, but maybe I'll give this thing a try". The song's lyrical subject is common, but it's the melody and catchiness that makes it so enjoyable. The Isles have the talent for orchestrating very enjoyable pop songs, like the more recent Lucksmiths, while still keeping their own original sound in tact with their great influences of the past. The album can be purchased here (scroll down to the last two), which I recommend
————————————————————————————–
[audio:http://obscuresound.com/mp3/isl-maj.mp3]
————————————————————————————–
[audio:http://obscuresound.com/mp3/isl-eve.mp3]
VIDEO
————————————————————————————–
The Isles – We Give A Receipt, We Take A Receipt
[audio:http://obscuresound.com/mp3/isl-weg.mp3]
————————————————————————————–
Mike Mineo
I'm the founder/editor of Obscure Sound. I used to write for PopMatters and Stylus Magazine. Send your music to
[email protected]
.