Posted
September 7, 2006 by Mike Mineo
in Features
The Bishops and a time machine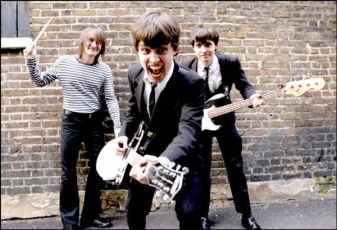 I don't blame you if you originally thought that The Bishops were a band from the 60s. After all, one look at their photo below tells all you need to know about the band's influences from the days of The Beatles and The Zombies. They are comprised of twin brothers Mike and Pete Bishop, along with Scottish drummer Chris McConville, who all met while working together at the same pub in East London. The Bishops' melodies and song structures heavily resemble those of the time of British Invasion, influenced primarily by traditional rock and R&B, with The Bishops adding elements of punk as well. Both twins lend their amiable vocals and songwriting talents, which they call nothing but natural talent.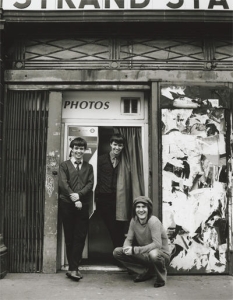 'The Only Place I Can Look Is Down' really caught my attention on the first listen, as I grew very fond of it by completion. The song's beginnings are led by a standard punk riff, until it falls into a very Beatles-esque chorus. All of The Bishops' songs certainly don't overstay their welcome, with the few available rarely streching over two minutes. Hey, I prefer quality over quantity just as well. 'In The Night' shows a favorable The Who comparison, with the Bishops' even sounding a bit like Roger Daltrey at times. 'Higher Now' sounds much more modernly aware than the previous two flashbacks with its heavy distortion and anthemic chorus. I'm really enamored with the first two tracks though, with 'The Only Place I Can Look Is Down' being a good example of what the trio is capable of.
——————————————————————————————
The Bishops – The Only Place I Can Look Is Down
——————————————————————————————
——————————————————————————————
——————————————————————————————
What do you think of this artist?
Mike Mineo
I'm the founder/editor of Obscure Sound. I used to write for PopMatters and Stylus Magazine. Send your music to
[email protected]
.