Posted
October 31, 2006 by Mike Mineo
in Features
Halloween Mix '06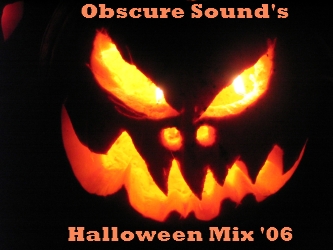 Halloween: the only "holiday" where religious controversy and political beliefs don't get in the way of daily plans. Kids dress up in innocent costumes and eat candy, adults dress up in promisicuous costumes and party hard. Fun stuff, isn't it? Media also plays a big role in Halloween, as music and movies (such as Friday The 13th or Rocky Horror Picture Show) have defined the holiday as a cultural event of creepy movies that make you jump at night. We all know the classic Halloween tunes, the 'Monster Mash's and such that echo in the halls of every elementary school, but what about the music for the older folks? Halloween mix tapes are something that are quite fun to listen to and make, considering the great number and mixture of tracks that are suitable.
For this little fourteen track mix I made, it's pretty varied. I could have posted a bunch of gothic post-punk such as Bauhaus and Siouxsie but that would be boring. So, I put in a bit of everything. I would kick it off with Lou Reed's 'Halloween Parade', a poetic and melancholic reaction to a Halloween parade with a colorful cast of decorated characters while Reed portrays his usual sensation of lost love. I couldn't leave Bauhaus and Siouxsie off of this, of course, especially with Bauhaus' 'Bela Lugosi's Dead', which many call the gothic equivalent of 'Stairway To Heaven'. The song gives an impression of Bela Lugosi's (the true actor of Dracula) funeral. "The bats have left the bell tower, the victims have been bled," Peter Murphy broodingly says, "red velvet lines the black box, Bela Lugosi's dead". Matt Pond PA and Alkaline Trio take an easy recognizable pop route, with Alkaline Trio's spooky keys and melody sounding quite memorable. The cult classic, The Nightmare Before Christmas, has a great soundtrack from Danny Elfman, particulary 'This Is Halloween' (Jack Skellington is indeed The Pumpkin King). Very early favorites from The Flaming Lips and Sonic Youth show the early beginnings from each band, with a more aggressive sound from The Flaming Lips and a fantastically eerie song (or somewhat monologue) from Sonic Youth that was really one of their first signs of true innovation. 'Son of Sam' is just a great song from the late Elliott Smith that I find to fitting for this day, with Smith often eluding to a supernatural occurrence in the song. 'Halloween with Morrissey' is actually just a fun little remix done by a Moz fan, with some cool effects highlighting some of his Halloween-esque songs, such as 'Ouijia Board, Ouija Board'. I also included two more well-known acts, one being the hardcore punk idols Dead Kennedys and the other being frat boy favorites Dave Matthews Band. Matthews' vocals are absolutely unexpected and quite hilarious towards the end (03:10 onwards) as he almost goes screamo, though I'm sure his attempt to sound possessed is considered successful by some standards. I admittedly love the strings though, as I do for most of his songs. Rounding it up are two synth-heavy songs. The pure techno of fairly unknown Save The Robot is slowly gaining momentum in the electronic fanbase. Ministry's classic 'Every Day Is Halloween' is on here as well, because it wouldn't be a Halloween compilation without it. Have fun tonight.
——————————————————————————————-
Siouxsie and the Banshees – Halloween

Danny Elfman – This Is Halloween
The Flaming Lips – Halloween On The Barbary Coast
Morrissey – Halloween with Morrissey (Cheekyboy remix)
Dave Matthews Band – Halloween
Save The Robot – Dream On Halloween
Ministry – Every Day Is Halloween
What do you think of this artist?
Mike Mineo
I'm the founder/editor of Obscure Sound. I used to write for PopMatters and Stylus Magazine. Send your music to
[email protected]
.