Posted
November 29, 2006 by Mike Mineo
in Features
The Selmanaires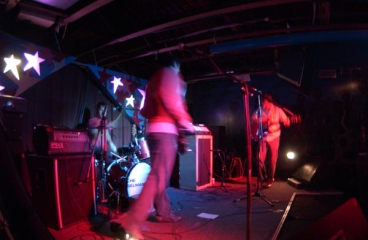 Does anyone know what a selmanaire is? I don't, and the dictionary has no information about the word in the English language either. Hey, but if The Selmanaires get lucky maybe the word will start to exist in regular conversation. They are comprised of two musically inclined twin brothers (Herb and Jason Harris), with Tommy Chung (no relation to Cheech & Chong) on a unique upright bass. What's so unique about an upright bass? Not much, but considering The Selmanaires' classic influences, it's a rare occasion to hear the instrument being utilized so well with traditional funk and rock n' roll. Herb Harris lacks the deep voice and raspy vocals of a stereotypical funk and blues frontman, but he has the energetic and rhythmic pattern to aid the melody over Chung's voluptuous bass lines and Jason Harris' use of several instruments, primarily keyboards and a collection of different percussion. His unusual lightly pitched vocals have a strange sense of appeal to them, sounding like they may fit better in some generic punk band, but it still works well with The Selmanaires' classic mixture of old favorites, with names such as The Who, The Kinks, and Wire highlighting the list. The trio originally began as a slow, soft, and exotic band who relied on sympathetic emotion. After realizing their personalities were too energetic for that type of somber mood, they switched to the classic rock n' roll feel, amplifying their entire setup. Judging from their debut album, Here Come The Selmanaires, the decision was most certainly a great one.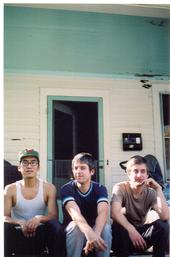 Their influence from Wire is as clear as it gets. One listen to 'Let's Go There' reminded me of several Wire classics off of Pink Flag, with slick and quick guitar riffs over uniform bass lines highlighted by vocals that seem to bring out more than the simplistic three-chord melodies convey. Songs such as 'Images' show shades of The Kinks' catchy choruses and lovable stability. 'High Tide' is a bit different than the other songs on the album, using a mixture of ska and reggae to form a sound that works well in the favor of Harris' light vocals, while the other Harris brother shows his use of varying percussion quite well. Since their sound is not very complex or particulary innovative, the album does proper to not exceed forty minutes. All ten tracks (with 'Devil's Note' being instrumental) are of perfect length, never overstaying their welcome. However, during their brief stay, all is welcome.
——————————————————————————————-
The Selmanaires – Let's Go There
[audio:http://obscuresound.com/mp3/selma-lets.mp3]
——————————————————————————————-
[audio:http://obscuresound.com/mp3/selma-ima.mp3]
——————————————————————————————-
[audio:http://obscuresound.com/mp3/selma-high.mp3]
——————————————————————————————-
Mike Mineo
I'm the founder/editor of Obscure Sound. I used to write for PopMatters and Stylus Magazine. Send your music to
[email protected]
.