Posted
November 26, 2006 by Mike Mineo
in Features
The Strays love their politics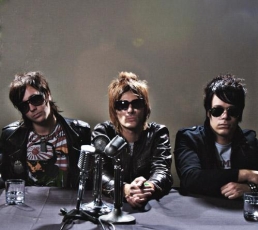 Frontman Toby Marriott is the only member of The Strays who hails from England, though one listen to their music would give the impression that their punk roots originate entirely from the UK. They're quite universal though, with the other two thirds hailing from Los Angeles, California (guitarist Jeffrey Saenz) and Athens, Greece (bassist Dimitrios Koutsiouris). Marriott is none other than the son of Steve Marriott, who was the frontman for the legendary Small Faces and Humble Pie. Obviously, he was no stranger to good music as a child, with the Small Faces being one of the most underrated British bands in the past several decades. Aggressive riffs, tight rhythms, and volatile vocals are all trademark of The Strays, traits that they gladly borrowed from punk legends such as The Clash and The Sex Pistols. Just like their predecessors, The Strays' lyrical content often deals with the touchy subject of politics. For some reason, punk was always such an appropriate genre for the subject. Anger and controversy go well together, I would think.
The band took the difficult (but old fashioned) route to success. They packed all of their musical belongings in a car with no money or fans, travelling across America and earning money by selling their homemade t-shirts and playing gigs. "Most of us didn't even have money to eat," said Marriott of their humble beginnings, "we had to hope club owners would feed us. But touring got the job done, we had to do it, we couldn't just wait for the record labels to come knocking down our door." Le Futur Noir is the band's debut full-length, released in September on TVT Records. Like most punk pioneers, the band tends to be anti-government at all costs, denying all leadership. Despite their failure to cooperate with written order, the music is quite concise and well constructed. The catchy 'Block Alarm' is built off a simplistic and limited chord structure, though the explosive chorus is irresistibly catchy, recalling the same passion and energy that the punk legends benefitted from years ago. "Wake up/This is the CIA/Wake up/No need to sleep all day/What are you waiting for?" sings Marriott, inherent and aware of his literal forefathers and influences. Confident enough of the band's abilities, Marriott states, "this is who we are, and hopefully that translates to people's record players and the crowd in front of us each night."
——————————————————————————————-
[audio:http://obscuresound.com/mp3/strays-block.mp3]
——————————————————————————————-
The Strays – You Are The Evolution
[audio:http://obscuresound.com/mp3/strays-you.mp3]
——————————————————————————————-
Mike Mineo
I'm the founder/editor of Obscure Sound. I used to write for PopMatters and Stylus Magazine. Send your music to
[email protected]
.