Posted
December 31, 2006 by Mike Mineo
in Features
¡Forward, Russia!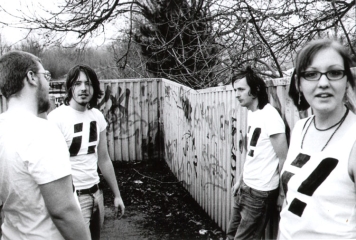 Well, it's the last day of 2006. I figured I would wrap it up with a band who have had quite a successful year: ¡Forward, Russia!. They were involved in the 2006 NME New Music Tour last May, which also featured promising British acts such The Long Blondes, The Automatic, and Boy Kill Boy. Their shows in the tour were extremely helpful in promoting their reputation as one of the most modernly energetic bands to come out of England this year. Along with NME's tour, they also played at Scotland's T in the Park festival, the MTV2 Brand Spanking New Music tour, and the Carling Weekend Festival. Those were certainly helpful as well towards getting their name out. Speaking of their name, it is not "iForward, Russia!". It is actually "¡Forward, Russia!". Notice the difference? As their shirts and logo emphasize, the first character is an upside down exclamation point, not an I. At the Leeds festival, they apparently had so many fans wearing band sweatshirts that unknowing bystanders thought it was some sort of cult gathering. Their history dates back to early 2004, when ¡Forward, Russia! first formed from the remnants of former Leeds band, The Black Helicopters. They released their debut single 'Nine' in April 2005 to rave reviews, particulary from NME, a publication who seems to idolize them for good reason. 'A double a-side of 'Thirteen/Fourteen' was released later that August on White Heat Records, with more eyes starting to focus on the band. If you haven't noticed by now, every song name by ¡Forward, Russia! is a number of some sort. This also applies to their fantastic full-length debut, Give Me a Wall, which was released last September. I don't notice any sort of given order in the tracklisting, though I'm sure some mathematically inclined fan can figure out some sort of pattern. The album was released on ¡Forward, Russia!'s independant label, dance to the radio, which was founded by their guitarist, Whiskas.
While the style of lead singer Tom Woodhead is not fit everyone's tastes, there is no doubt that his rapidly energetic delivery is relevant to the band's popular contemporary sound, which is influenced by post-punk and classic British punk. Their short-lived but simplistically catchy riffs are reminiscent of Wire, while Woodhead has an entirely original vocal output of his own. Bands like Bloc Party and Sound Team have been making mumbled lyrics more acceptable by the day, with fast-paced licks and a constant rhythm section just complementing it even more. The bass lines and guitar licks rely more on orchestrated tempo than actual musical variation, an aspect which ¡Forward, Russia! has achieved to a successful degree. That being said, 'Twelve' holds many forms of repetition but it is done so in an intentionally mind-numbing manner. Woodhead sounds oddly like Edwyn Collins during the song's boasting chorus and as direct as the song is, every moment during the two minutes of fury is well-recieved. The song has reached #36 on the UK Singles Chart, which is currently the most successful for the band. 'Fifteen, Pt. 1' is another great track off of the album, also being a display of Woodhead's effective synths. The synths serve as an effective bridge for this one, leading up to another great chorus. They could have easily followed the traditional punk format and repeated the first few minutes a few times to take care of the structure, but they did not. Instead, they chose to throw in several guitar-led surprises and an entirely new verse altogether. Eventually, the song reflects back on that great chorus but it is not until the nearing conclusion. Those who do not give ¡Forward, Russia! a chance will immediately look at Woodhead's frantic delivery as some easy way to shadow simplicity, which is far from the case. ¡Forward, Russia! offers a fresh sound that feeds off the energy and emotion of youthfulness. 2006 was certainly a big year for them and 2007 isn't looking so bad either. They have a major tour scheduled that will stretch across the UK and Ireland.
——————————————————————————————-
[audio:http://obscuresound.com/mp3/forward-12.mp3]
——————————————————————————————-
¡Forward, Russia! – Fifteen, Pt. 1

[audio:http://obscuresound.com/mp3/forward-151.mp3]
——————————————————————————————-
[audio:http://obscuresound.com/mp3/forward-13.mp3]
——————————————————————————————-
Mike Mineo
I'm the founder/editor of Obscure Sound. I used to write for PopMatters and Stylus Magazine. Send your music to mike@obscuresound.com.