Posted
December 10, 2006 by Mike Mineo
in Features
Neil Hannon covers the classics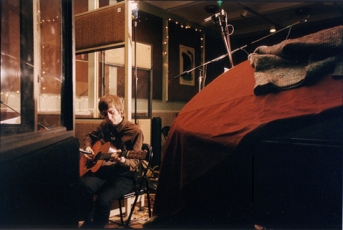 My admiration for Neil Hannon and his The Divine Comedy is no secret. Their most recent album, Victory for the Comic Muse, is one of my favorite releases of 2006 for good reason. For over thirteen years, Hannon has been a devastating but quiet force in the music industry, being wildy consistent and entirely innovative throughout his discography of nine albums. I have posted plenty of original tracks by Hannon, so I figured it would be a good time to demonstrate Hannon's astute ability to cover a song as well. Hannon has only included a cover song once in a final album, that being The Associates' 'Party Fears Two' in Victory for the Comic Muse. Despite the little involvement, he has recorded a numerous amount of covers along with dozens of live renditions with great quality. He usually packs them away as a b-side (a track on one of his many singles) or doesn't release them at all. As you can hear, he has nothing to be ashamed of. Ironically, the artists he covers are usually and strictly his influences, with the obvious inclusions of David Bowie, Roxy Music, Edwyn Collins, and Leonard Cohen. Suffice to say, he also works with songs by more contemporary or diverse artists such as Kraftwerk, Magnetic Fields, and Ride. I gathered up many of my favorite covers by Hannon, with most of them being done live (but in great quality).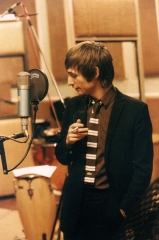 The first song I would like to bring attention to is the portrayal of David Bowie's reputable 'Life On Mars'. Hannon uses some music box keys and a single lush set of strings to open the song off, until the famous chorus kicks in with Hannon's high vocal range and a more complex string arrangement. Hannon's vocals tend to be even more daring than Bowie's in this cover, even if the music remains relatively the same. His smokey cover of the Randy Newman's bar room favorite 'Lonely At The Top' demonstrates Hannon's classical piano talents, while emphasizing his skill of mimicking vocal styles. Notice how he sets his vocals to be slightly thinner for the Newman cover, while deepening his already solemn tone to match Sacha Distel's grandiose vocals in 'The Good Life'. It only goes to show that Hannon could have placed well into any musical timeframe, from the classics of the 1950s to the modern aggression of the 1990s. Much like his idol Scott Walker, he does a presentable cover of Jacques Brel's 'Jackie', while his cover of Roxy Music's 'Oh Yeah' makes his comparisons to Bryan Ferry sound even more accurate. 'Split', his collaboration with broadway vixen Ute Lemper is not a cover at all, but it's hilarious as the two duet and present a couple in a bitter argument about a relationship unbound by adultery. "You were there for me… and him," Hannon snickers, "and half of the Western it seems". Of course, Lemper snaps back with her usual flair and Hannon mockingly replies with wit. The song is off Ute Lemper's Punishing Kiss. 'Suzanne' reflects the usual sympathetic melancholy and poetic lyrics that Cohen is famous for and Edwyn Collins' 'Untitled Melody' is another great showmanship of Hannon's vocal cloak, almost sounding exactly like Collins himself during the introduction. The cover of 'Radioactivity' is fantastic as well, with both Hannon's German linguistics and general musical presentation really making for one of the most collective Kraftwerk covers I've seen, with a haunting piano melody eventually leading to a musical eruption that results in one of the most epic covers you will find. He also managed to throw in a few fun ones, even including Nelly Furtado's 'Maneater' which was admittedly a guilty pleasure, while the covers of Magnetic Fields and Ride is strong as well. Neil Hannon is arguably one of the most talented musicians of the past fifteen years and his tributes to his own influences does nothing more than solidify that.
——————————————————————————————-
The Divine Comedy – Life On Mars (David Bowie cover)
The Divine Comedy – Lonely At The Top (Randy Newman cover)
The Divine Comedy – The Good Life (Sacha Distel cover)
The Divine Comedy – Jackie (Jacques Brel cover)
The Divine Comedy – Oh Yeah (Roxy Music cover)
Ute Lemper – Split (with Neil Hannon)
The Divine Comedy – Suzanne (Leonard Cohen cover)
The Divine Comedy – Untitled Melody (Edwyn Collins cover)
The Divine Comedy – Radioactivity (Kraftwerk cover)
The Divine Comedy – Maneater (Nelly Furtado cover)
The Divine Comedy – Famous (Magnetic Fields cover)
The Divine Comedy – Love Is Lighter Than Air (Magnetic Fields cover)
The Divine Comedy – Vapour Trail (Ride cover)
The Divine Comedy – There Is a Light That Never Goes Out (The Smiths cover)
What do you think of this artist?
Mike Mineo
I'm the founder/editor of Obscure Sound. I used to write for PopMatters and Stylus Magazine. Send your music to
[email protected]
.