Posted
December 6, 2006 by Mike Mineo
in Features
The Temper Trap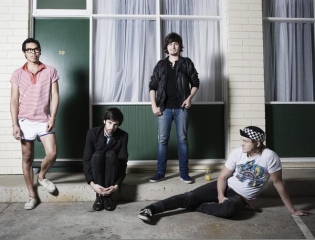 The Temper Trap is four radio-friendly friends from Melbourne, Australia. Dougy, Jonny, Lorenzo, and Toby all found each other by bar hopping in Melbourne, calling it pure good will that they all had the same aspirations of starting a band. The Indonesian lead singer goes by the name Dougy, inheriting the high-pitched and quivering vocals of a ghoul on fire. He works around the bustle of Jonny and Lorenzo's rhythmic fast-paced guitar strums and Toby's lively percussion. The vocal range that Dougy is known to showcase has been compared to the likes of Cedric Bixler-Zavala (The Mars Volta), Matthew Bellamy (Muse), and Bono. Their debut EP contains four songs of varying appeal produced by Scott Horscroft, who is known for his work with The Sleepy Jackson and Silverchair. From a musical aspect, The Temper Trap's songs aren't particulary innovative or breathtaking. However, if you're looking for something catchy, don't fret. Simplicity finds a nice home in the songs of The Temper Trap. A variation of traditional alternative guitar chords and punk scales are present over a usually upbeat style of production. If anything, the music is present to showcase Dougy's unique vocal style as he delivers most of the hooks on his own, based purely from his vocal chords. Guitars do build momentum and percussion is far from stiff, but the vocals of Dougie is the main aspect that will jump out in style on the first listen.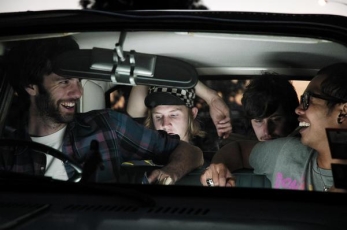 'My Sun' will recieve some playtime in Australia and several college stations in the USA, knowing the fact that it's melodic catchiness and upbeat nature will bring the best out of most casual listeners. The Temper Trap's songs don't require much physical effort for enjoyment, which may sound alright if you're looking for an immediate fix, but I started to grow tiresome of their somewhat repetitive style. Besides the ambient sirens in the introduction, the differences in 'Sirens' and 'My Sun' are not all that significant. Dougie stretches out his vocals over a continuous verse, with the chorus often sounding unrecognizable from the verse. A constant form of catchiness would be one way to describe it, which makes for nice party music. Luckily, 'Peter Parker's Alter Ego' finds more innovation through the form of name and style. The song even recalls the influences of U2, with the sparkling guitars and enjoyable emphasis on vocal delivery and musical structure. The song is one of the few reasons I will check out future material from The Temper Trap. Dougie's vocals are too engaging to pass up and if the band can manage to grab ahold of a unique musical style, they will be hard to miss. They are currently touring in their native Australia and are set to appear at the V Festival in March and April.
——————————————————————————————-
The Temper Trap – Peter Parker's Alter Ego
[audio:http://obscuresound.com/mp3/temper-peter.mp3]
——————————————————————————————-
[audio:http://obscuresound.com/mp3/temper-mysun.mp3]
——————————————————————————————-
[audio:http://obscuresound.com/mp3/temper-sirens.mp3]
——————————————————————————————-
Mike Mineo
I'm the founder/editor of Obscure Sound. I used to write for PopMatters and Stylus Magazine. Send your music to
[email protected]
.