Posted
January 25, 2007 by Mike Mineo
in Features
The mysterious Danny Cohen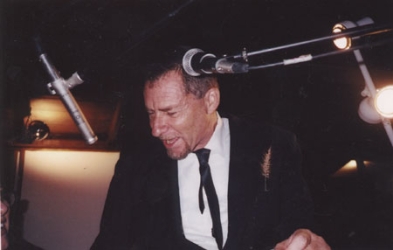 The ancient stereotype that aging artists have a tendency to spiral downwards has echoed through the past, present, and will continue to do so in the future. Sure, it's understood that Dylan will never release another Highway 61 Revisited and Van Morrison will never return to the caliber of Moondance, but what about the artists who avoided fame for most of their career? Danny Cohen has been making music for almost fifty years, perhaps most notably known for fronting the Charleston Grotto, who achieved the hit single 'Kill The Teacher' in 1961. Growing up during the 1950s in Hollywood, Cohen was the son of Gene Cohen, an actor and sketch artist who engaged Danny in the interesting world of stardom and film production. "Growing up in that L.A. atmosphere has always had a huge effect on everything I do," Cohen says of television's effect on his music and society in general, "TV has always been a huge influence". Unlike his father, however, Danny became more interested in a film's music score over the actual storyline and direction. Eventually regarding sci-fi film scorer Bernard Hermann as one of this first infuences, Cohen began to play lead guitar in junior high school, adapting the popular theme at the time by fronting several surf rock bands. After founding one of the first proto-punk bands Charleston Grotto in the early 1960s, his cult following got the best of him. Cohen actually believes that the Charleston Grotto invented punk music, crediting their guitarist for being one of the first innovators of three-chord logic. Perhaps a foreshadowing of the attitude of stereotypical future punk fans, Charleston Grotto was banned from performing at a L.A. club after a large group of fans apparently smeared feces all over the bathrooms in the venue. It was apparenty inspired by an act that Cohen put on during the show that involved chocolate pudding, something he called "Disco Diarrhea". I'm sure Cohen enjoys telling that story to his adoring fans. After the band's departure, Cohen dabbled in collaborations and varied art in the following several decades. He emerged as a solo artist in 1998, releasing Self-Indulgent Music. He admittedly calls himself an "outsider artist", joining the ranks of Jandek and Greg Sage in that sense. Cohen has rarely been interviewed throughout his career and remains fairly unknown by avoiding the spotlight, though there remains a group of fans who have been following his work for several decades.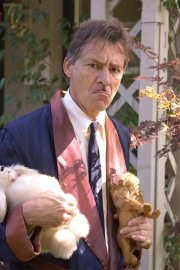 Cohen's age is certainly not stopping him from releasing his fifth solo album. Shades Of Dorian Gray is destined to introduce Cohen's eccentric musical style to a whole new collection of audiences. Fans of Oscar Wilde may recognize the album's title as reference to Wilde's text of a similar name, though Cohen actually believes that The Picture of Dorian Gray is one of Wilde's worst books. He had an entirely different reason for using it altogether. "I used the title because the songs were pointing me in that direction," Cohen said, "I felt like there were a lot of gray tones in the themes and music sounds, whereas my last record (We're All Gunna Die) had earth tones. This one is more subtle and musty and I liked the play on words". With that cleared up, Cohen describes his style on the album as "guitar dominated gothic folk-blues" and I tend to agree with that statement for most of the album. Initial listeners of Cohen may tend to regard his style as sloppy and incoherent at times, though brilliance shines in songs such as the fantastic 'Devil Brat', demonstrating Cohen's true form as a musician. Actually, the guided aspect could even be compared to Daniel Johnston, though Cohen certainly has more control of his vocal tone and better understanding of instrumental variety and musical theory. Whereas Johnston was more of a simplistic songwriter with heartfelt lyrics, Cohen releases arrangements with guitars, mellotrons, organs, horns, and strings with similar lyrics reflecting keen storytelling. His forced melodical tone and occasionally slurred vocals are more reminiscent of Johnson, while his instrumental knowledge is actually similar to that of Tom Waits, who is a friend and supporter of Cohen's works, introducing Cohen to fans of his own. Cohen's raspiness also indicates a slight comparison to Waits' vocal delivery as well. The lyrical content on 'Devil Brat', like most of his other songs, is indicative on the bizarre and often symbolic. Playing with the similarities of evil and lust, Cohen's romantic outlook is one of bleak misfortune. Religious tones have remained consistent throughout Cohen's career, this time relating relationship woes and the devil itself, connecting the two in his clever and bizarre fashion. His hooks take a few listens to uncover but they are certainly worth the time intended. 'Palm of My Hand' once again retraces Cohen's fascination with the bleak and weary, from the introductory mention of Dylan Thomas' death to the closing rapture of swift strings. "Once I had you in the palm of my hand," Cohen breezily sighs over an impressive string arrangement. Such emotional quirkiness leaves room for applause. 'Vertigo' seems to be a homage to Cohen's fascination of sci-fi movie scores, setting the tone with an eerie organ and acoustic guitar, backed by solemn vocals on slight reverb. While it is clear that Cohen's style is not for all and some of his tracks are even unlistenable, his handful of successful songs are of overwhelming ingenuity and passion. Music seems to keep Cohen young, even if his music often sounds like it resonates from a funeral parlor. His usual attire of a monochromatic suit certainly doesn't help to avoid the gloomy aspect as well. Either way, his original style is still in tact and he continues to write very engaging songs. Shades of Dorian Gray will be released on February 6th. If you enjoy a slice of the bizarre, this album is certainly for you.
——————————————————————————————-
[audio:http://obscuresound.com/mp3/dancoh-dev.mp3]
——————————————————————————————-
[audio:http://obscuresound.com/mp3/dancoh-pal.mp3]
——————————————————————————————-
[audio:http://obscuresound.com/mp3/dancoh-ver.mp3]
——————————————————————————————-
Mike Mineo
I'm the founder/editor of Obscure Sound. I used to write for PopMatters and Stylus Magazine. Send your music to
[email protected]
.