Posted
January 20, 2007 by Mike Mineo
in Features
Unsigned: The Rosy Nolan Band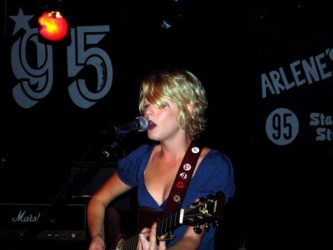 Even though Rosy Nolan is based out of New York, she seems to be perfectly aware that her country roots may seem a bit geographically out of place. Regardless, who ever said that the creation of contemporary Southern rock was limited to the South? Following in the footsteps of fellow Southern influenced revivalists Neko Case and Jenny Lewis, The Rosy Nolan Band are the latest to emerge from the thriving scene. Much like Rilo Kiley and The Corn Sisters, the group's most immediate and recognizable feature is the powerful vocal performance and stage presence of the frontwoman. In this case, it is the talented Rosy Nolan. Ever since a young age, Nolan has incorporated herself with the creation of music. At the age of fourteen, she was the drummer for the all-girl punk band The Rape Utic. After she grew tired of percussion, she started playing guitar at the age of sixteen and has found it hard to put it down since. Throughout her later teen years, she played with a variety of alternative bands as she continued to mold her own musical style. With inherited experience and a luminous vision, Nolan brought together the members of The Rosy Nolan Band, consisting of herself on vocals and guitar, Jeff Bailey on bass and piano, Jason Chester on percussion and harmonica, and Dan Weber on lead guitar and backing vocals. Their debut album Phantom Hymns was written almost entirely by Nolan herself, as the songwriting process usually consisted of her writing the song on an acoustic guitar and then showing it to the rest of the band in order to orchestrate it into something much larger. Much like the previously mentioned Neko Case and Jenny Lewis, major influences include Stevie Nicks, Lucinda Williams, and Neil Young.
Nolan's vocals are a journey in itself. As demonstrated in the delightful 'Janina', Nolan has the capability to extend her vocal emotions to a point where the song's fantastic musical composition seems nearly secondary. The song stands as a testament of determination from the beginning to the end, as Nolan opens the song with, "songbird sings so pretty, even with those broken wings". Nolan crafts the song appropriately, informing the spoiled public to focus on their own strengths rather than their harmless weaknesses. Don't even mind that it may appear to hold a bit of favoritism towards those who are able to sing skillfully. Nolan works against a sparkling background of twangy guitarss, with the vitally executed rhythm section proving to be surprisingly dynamic. 'Filler' is filled with more distortion and fast-paced aggression, though Nolan continues to maintain her nonchalant vocal style that should award her some new fans shortly. 'Filler' is more typical in terms of lyrical content, speaking of anger and confusion after the sullenly common situation of a broken heart. It is further complemented by a nice guitar solo by Dan Weber with a rhythmic halt shortly thereafter, demonstrating a modest display of effective diversity. 'Nobody's Fool' on the other hand, is more mellow and musically articulate. Though it lacks the excitement of the first two tracks, it will fill that certain desired emotional void of realistic romanticism that the other two tracks leave open. The song also sports a cleverly executed vocal resemblance that resembles Stevie Nicks, just enough to hold a grin. Despite a few tracks that wear Nolan's vocals too thin with a repetitive element that is hard to avoid with their risky delivery, Phantom Hymns is an impressive debut album from an emerging and significantly promising songwriter. Though Nolan's band is currently unsigned, Phantom Hymns was sent out by personal distribution a few months ago so you can purchase it at most popular stores online. Even if significant commercial success is a far reach, at least The Rosy Nolan Band can show those ignorant few who still believe that all bands from New York sound like The Strokes some right from wrong.
——————————————————————————————-
[audio:http://obscuresound.com/mp3/rosy-jan.mp3]
——————————————————————————————-
[audio:http://obscuresound.com/mp3/rosy-fil.mp3]
——————————————————————————————-
The Rosy Nolan Band – Nobody's Fool

[audio:http://obscuresound.com/mp3/rosy-nob.mp3]
——————————————————————————————-
Mike Mineo
I'm the founder/editor of Obscure Sound. I used to write for PopMatters and Stylus Magazine. Send your music to mike@obscuresound.com.