Posted
February 25, 2007 by Mike Mineo
in Features
Two Cow Garage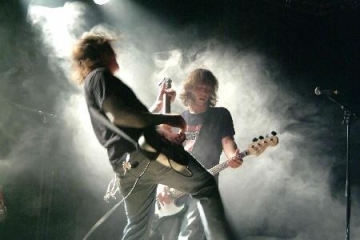 Sometimes I just get sick of all the overproduction, the pretentious attempts at ingenuity, and easy routes taken by many contemporary bands. When one holds that perspective it is when straight and rootsy rock 'n' roll sounds best. I would suppose that rock 'n' roll is in the blood of all four members of Two Cow Garage. When lead singer and guitarist Micah Schnabel was in high school he was kicked out of Jazz Band because his teacher claimed he was "too rock 'n' roll". After the instructor asked Schnabel to leave the room, he denied, stating he wouldn't leave until the teacher admitted he was a rock 'n' roll prodigy, boasting, "Just admit I'm the best. Just do that and I'll go". While Schnabel said it was just done to piss off the teacher, that's the ego of a rock 'n' roll star if I've ever seen one. All members, including drummer Dustin Harigle and bassist Shane Sweeney, all grew up in small farming and manufacturing towns in Ohio, with their band name poking fun at it. Harigle is known to be the best musician in the band, often playing guitar, lap steel, and bass in addition to his stellar drums. Surprisingly, he is also apparently the most modest and laid-back member in the band. Sweeney is known for his impressive work ethic, once finishing his entire work day at a shooting range even after getting shot in the leg. In addition to the trio, Two Cow Garage's manager Chris Flint is also the part-time guitarist when he is not occupying his day job as a lawyer. After forming during the turbulent days of September 2001, Two Cow Garage released their debut album Please Turn the Gas Back On in November of 2002, seeing local success across Ohio and drawing comparisons to Wilco and Uncle Tupelo with their country-rock influence. During that time however, most of their reputation came from their unparalleled energetic live performances, an aspect that they still carry out to this day. During the release of their debut album, the band toured about twenty months straight, playing at over three hundred fifty shows. The consistency may have been attributed to Schnabel's confidence, Harigle's ability, Sweeney's work ethic, and Flint's organizational skills. While the debut album saw promising acclamations, their sophomore album The Wall Against Our Back was the one that truly gave them national success. The album was extremely vital in defining the band's sound, setting the tone for their promise and expected virtue. Variety was also a highlight, from the catchy opener "My Concern" to the emotionally gripping acoustic "Saturday Night". Distant states finally saw promise as they reached a following outside of Ohio, with publications such as The Boston Globe and Paste calling the band an example of successful brashness.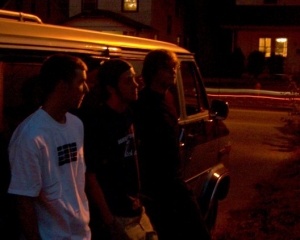 Two Cow Garage plans to release their routinely titled third album III on April 24th. In similar contrast to The Wall Against Our Back, the band continues to explore their lively country-rock roots. If the eerie similarity doesn't stun you on the energetic "Epitaph", Schnabel sounds just like The Replacements' Paul Westerberg. With the same raspiness and quick delivery, Schnabel fits right in with the brash delivery of nonstop rhythm and constantly enthused guitar. "Epitaph" and "Come Back to Shelby" both prove to be great openers, reminding old fans of Two Cow Garage's youthful intensity and treating new listeners to an immediately excitable introduction. "No Shame" is also found early in the album, displaying what arguably may be Two Cow Garage's catchiest track of their career. "Now I Know" has a rougher edge to it, with a deeper vocal style complementing Scott Danbom's effective use of keys. The melody inscribed within the rough vocals are synchronized accurately with the paced melody, providing a memorable structure and dauntless mentality. "Arson" is similar to what "Saturday Night" was on The Wall Against Our Back, being a transitioned acoustic that still fits nicely between several electrically fierce tracks. "Arson" begins with Schnabel's use of nostalgic humor. "You set shit on fire back when we were kids," Schnabel raspily expresses over a bare gradual guitar, "In the park back in the woods near the house where I used to live". The song twice shifts from an isolated electric guitar to a flurry of drums, bass, and additional guitar, emphasizing an eloquently impetuous style in which Two Cow Garage sounds surprisingly comfortable in. III is quite an enjoyable album, delivering the same thrills as The Wall Against Our Back with a touch of more emotion and diversity.
——————————————————————————————
[audio:http://obscuresound.com/mp3/twocow-epi.mp3]
——————————————————————————————
[audio:http://obscuresound.com/mp3/twocow-now.mp3]
——————————————————————————————
[audio:http://obscuresound.com/mp3/twocow-ars.mp3]
——————————————————————————————
Mike Mineo
I'm the founder/editor of Obscure Sound. I used to write for PopMatters and Stylus Magazine. Send your music to mike@obscuresound.com.