Posted
April 10, 2007 by Mike Mineo
in Features
Luxembourg Clearly Deserves More Recognition…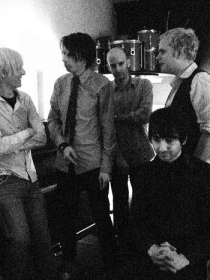 An old favorite of mine, I always believed that it would only be a matter of time before Luxembourg would be pushed into the spotlight. I discovered Luxembourg out of pure coincidence about three years ago, randomly browsing MySpace music pages before the service had even an ounce of popularity. After hearing about fifty or so bands who couldn't carry a melody if their life depended on it, I stumbled on the young British five-piece from London. Proudly defining themselves as "pop noir", Luxembourg immediately reminded me of various other catchy art-rock bands who were blatantly British, most notably Franz Ferdinand and Maxïmo Park, who were just starting to break out at the time. When I saw that Luxembourg was unsigned, I acknowledged to myself that it was surely due to lack of publicity, as the songs were simply too catchy to go by unnoticed for long. Their early batch of songs included "Pin Me Down", which was a lively synth-fused track that recalled the likes of early Pulp. Other memorable early tracks also included the more electric "We Are The Resistance" and "Success Is Never Enough", both included on their debut release, Best Kept Secret, which came in the form of a compilation containing b-sides and demos in 2004. Though releasing a compilation was an odd form for a debut release, Luxembourg clearly felt that they had to get most of the songs out of the way before venturing onto new material. In addition, their dedicated fan base also informed the band of their demand for demos that would have otherwise been omitted. I wrote a bit on the excellent Best Kept Secret here about a year ago. When their first single, "What The Housewives Don't Tell You", was released, it validated my previous thoughts that Luxembourg was poised for the big time. After an acoustic version was included on Best Kept Secret, they eventually released the electrical version as their debut single in September of 2004. Last December, bassist Jon Bacon announced his desire to pursue other projects and was replaced by David Barnett, known as a notable Suede biographer (he wrote "Suede: Love and Poision") and ex-bassist of The Boyfriends. This finalized the current lineup at vocalist David Shah, guitarist Rob Britton, bassist David Barnett, keyboardist Alex Potterill, and drummer Steve Brummell. Shah and Potterrill actually began working together in 2000 as a duo, much like Bryan Ferry and Brian Eno, both of whom are major influences in the band's stylistic approach. After releasing three singles the following two years, they announced plans to finally release their debut full-length album, five years after their formation in 2001.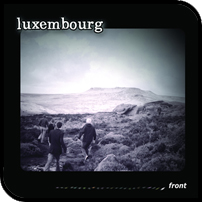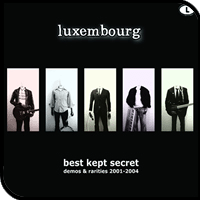 Front was released last October to glowing reviews from the British press. It also served as a further example of the band's DIY approach, as they released the album on their own self-produced label, Dogbox Records. They even went on to stress their own frustration, albeit admiration, for their own do-it-yourself style in one of the album's tracks and fourth single, "Sick of DIY". The prominent and very British (a slight mixture of Jarvis Cocker and Bryan Ferry) vocals of lead singer David Shah proudly burst out, "I'm sick of D-I-Y, I'm all wrong but you are alright", later concluding his amaroidal statement with, "but being born pre-Madonna, it's not flattering, I took a battering." Front does indeed have a touch of lyrical bitterness to it, though Shah's statements about his own superficial society and immoral actions are accurate and even pleasing to know that not every songwriter is a mindless bore. This is especially touched on in their exceptional second single, "Luxembourg vs Great Britain", where a chorus of, "Sex! drink! consolations!", is later reluctantly reassured by Shah's wishful views of, "Love! hope! and remuneration!". When he later solemnly croons out, "I've given them all up for you", it merely clarifies how relationships bound on pure superficiality can cause extreme unhappiness and immoral philosophies. On Front, you will also find their outstanding debut single, "What The Housewives Don't Tell You", in addition to their three other singles, "Luxembourg vs Great Britain", "We Only Stayed Together Together For The Kids", and "Sick of DIY". While the four singles on the album are all quite exceptional, the song that shines most overtly with emotion is the bleak and ironically titled "Single", which dwells more on relationship patterns and authenticity, overall being more effective than the band's other "singles". While it's a typical song touching on the topic of loneliness, Shah's distinct cause for a brilliant melody carries it to great heights. "I wouldn't wish my life upon anyone, so let's abstain," sounds as if he pulled it from a Morrissey song, "I couldn't share this life of grime, this doing time, so let's refrain." When Shah satirically shares, "My fifth birthday was sad and lonely, oh, well don't they start so early these days?", the tone of the song is now quite audible, with the feeling of melancholy successfully being echoed by Britton's dreary guitar and Potterill's modest use of keys. "Making Progress" is another gem on Front, being a phenomenal example of the band's incorporation of keys and synths into a guitar-oriented "pop noir" song. After an exceptional succession of two verses and choruses, Shah relapses into a mumbling fast-paced soliloquy of sorts, which can be viewed humorously here. Hilarious stabs at society and superficiality remain consistent, with Shah's enjoyably unreserved and clever comments establishing an effective display of witty observation. "She recalls now reading something about the garment she is buying, was it made by third-world children? It doesn't look as i it was, so that's okay then!" This section of the song is lengthy but it is worth it in the end, with Shah stating his own purpose, "It's a thankless task but someone's got to do it," with his final words. Though many songwriters' bitterness toward society is often viewed as futile, Shah establishes his point successfully and convincingly, making both the lyrical and melodic impact worthwhile throughout the entire duration of Front. It's a shame that Luxembourg has yet to be recognized for being one of the catchiest bands of this decade from Britain. I genuinely hope that the public catches on, as there are not many bands whose songwriting equates to the overall quality of Luxembourg.
——————————————————————————————-
Luxembourg – What The Housewives Don't Tell You
[audio:http://obscuresound.com/mp3/luxem-wha.mp3]
——————————————————————————————-
[audio:http://obscuresound.com/mp3/luxem-sin.mp3]
——————————————————————————————-
[audio:http://obscuresound.com/mp3/luxem-mak.mp3]
——————————————————————————————-
Mike Mineo
I'm the founder/editor of Obscure Sound. I used to write for PopMatters and Stylus Magazine. Send your music to
[email protected]
.