Posted
March 31, 2008 by Mike Mineo
in Features
Obscure Sound: Best of March 2008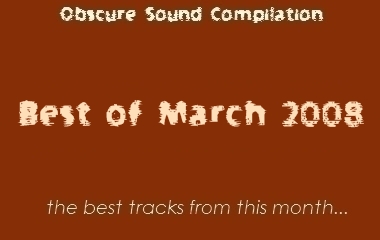 In terms of style, March seemed to have it all. Whether you find yourself personally enamored with neo-psychedelia (Jim Noir, Fujifabric), throwback folk (The Tallest Man On Earth, Sera Cahoone), epic post-rock (Our Sleepless Forest), or straightforwardly infectious indie-rock (Hilotrons, The Pharmacy), I feel content in guaranteeing that this compilation will introduce to you at least a handful of enjoyable new artists who view style as a variable in the quest for success. Your taste would have to be admirably broad to fully enjoy all 15 artists, but I would be shocked if at least one does not fit your fancy. Oh yeah, spring is here, which also means that baseball is back. My embarrassing brackets suffered at the defeats of Georgetown and Duke and the crushing feeling leaves me even more ready to move on to the sport that I love most. Go Yankees.
01. Jim Noir – Happy Day Today (post)
02. Ane Brun – 10 Seconds (post)
03. Hilotrons – Deep River (post)
04. Phoebe Killdeer & The Short Straws – Let Me (post)
05. Fujifabric – Strawberry Shortcakes (post)
06. The Tallest Man On Earth – I Won't Be Found (post)
07. The Pharmacy – Tropical Yeti (post)
08. Sera Cahoone – Runnin' Your Way (post)
09. Hush the Many (Heed the Few) – Revolve (post)
10. Ghost Bees – Vampires of the West Coast (post)
11. Murder by Death – Comin' Home (post)
12. Our Sleepless Forest – The Tinderbox (post)
13. Frightened Rabbit – The Modern Leper (post)
14. Micah Dalton – Looking For a New Way (post)
15. Sleepercar – A Broken Promise (post)
Mike Mineo
I'm the founder/editor of Obscure Sound. I used to write for PopMatters and Stylus Magazine. Send your music to
[email protected]
.