Obscure Sound: Best of February 2009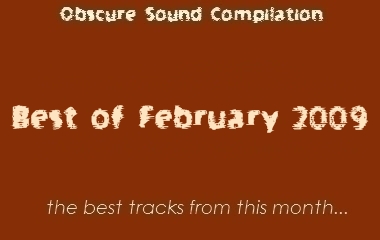 After I watched the commencement of spring training and witnessed the mid-point of my "spring" semester, springtime weather appeared imminent. D.C. did not really reinforce that sentiment by giving us a few inches of snow on the first day of March, but I am headed back up to New Jersey on Friday for what will be a week with minimal work and decent weather (hopefully). Spring break is nearly here and I plan to use it to my full advantage. I will be headed back up to NYC for good in the fall, transferring to a school in a city that is more comfortable and accessible to me. Also, not to knock on D.C., but I have always found the music scene much more fulfilling in NYC. Since I plan to keep Obscure Sound running for as long as I enjoy music and can afford it, the move should be beneficial in a variety of ways. Perhaps if I existed for a longer amount of time in the '80s then my view of D.C. would be changed, but it just is not doing it for me right now.
This month's compilation sees both familiar faces and first-timers, with a common theme of quality and stylistic innovation among them all. As usual, I try to strive for a diverse cast of featured artists, which makes me proud of this month. From the gospel-ish folk of Bruce Peninsula and chamber-pop of Brent Randall & His Pinecones to infectious electro-pop in the vein of Junior Boys and La Roux, there is plenty of balance here for fans of all genres. Also of note is Steve Kilbey and Marty Willson-Piper, two members of The Church who both released great solo albums within one month of each other. Enjoy the tunes.
01. The Leisure Society – Love's Enormous Wings (post)
02. Cass McCombs – Twins (post)
03. Junior Boys – Sneak a Picture (post)
04. Brent Randall & His Pinecones – Strange Love (Don't Be Lazy) (post)
05. Bruce Peninsula – Shutters (post)
06. Woodpigeon – Love in the Time of Hopscotch (post)
07. La Roux – Quicksand (post)
08. Fanfarlo – Ghosts (post)
09. Papercuts – Future Primitive (post)
10. Steve Kilbey – Wolfe (post)
11. Strand of Oaks – End in Flames (post)
12. Marty Willson-Piper – The Love You Never Had (post)
13. WhoMadeWho – The Plot (post)
DOWNLOAD ENTIRE COMPILATION>>> (62.6 MB, .RAR)
What do you think of this artist?
Mike Mineo
I'm the founder/editor of Obscure Sound. I used to write for PopMatters and Stylus Magazine. Send your music to
[email protected]
.