Posted
April 1, 2009 by Mike Mineo
in Features
Obscure Sound: Best of March 2009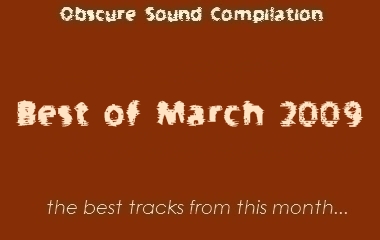 I often find March to be one of the dullest months of the year. Apart from the allure of St. Patrick's Day and March Madness, there is little to get excited about. The weather sucks, the workload for classes is nearing its peak, and my inability to pick a decent bracket frustrates me to no end (damn you, Memphis and Pitt). But hey, classes are over about a month from now and baseball starts next week, so things could be worse. In a month where good music was vital in improving somber moods, several artists prevailed with some excellent material. From familiar faces like The Veils and Röyksopp to up-and-coming hype machines like Micachu, Tesla Boy, and Julian Velard, several artists made March a month to remember with a handful of releases that are sure to appear on my year-end list. The '80s electro of Tesla Boy and the cabaret-pop of Julian Velard suggest some sort of throwback theme, but wildly successful attempts at innovation from Micachu, The Veils, and others make it a compilation that presents material derived from both nostalgia and contemporary innovation. I consider it to be an excellent fusion.

01. The Veils – The Letter (post)
02. Richard Swift – Already Gone (post)
03. The Deep Dark Woods – Polly (post)
04. Röyksopp – The Girl and the Robot (post)
05. Tesla Boy – Spirit of the Night (post)
06. Julian Velard – Jimmy Dean & Steve McQueen (post)
07. Micachu – Golden Phone (post)
08. The Mint Chicks – I Can't Stop Being Foolish (post)
09. Chris Robley & The Fear of Heights – A Memory Lost at Sea (post)
10. Home Video – I Can Make You Feel It (post)
11. The Gift Machine – In the Middle (post)
Mike Mineo
I'm the founder/editor of Obscure Sound. I used to write for PopMatters and Stylus Magazine. Send your music to
[email protected]
.