Obscure Sound: Best of February 2010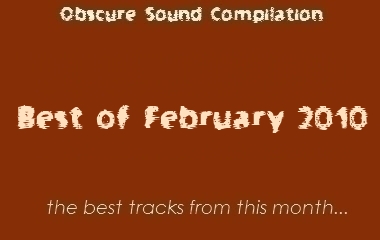 Despite coming down with the worst case of stomach flu imaginable this past weekend, I felt that compiling the best features from September would be a breeze. I can barely focus enough to write, let alone listen, but most of these artists do not require supplemental information. I feel this compilation packs quite a punch on its own, and as always there are convenient links to each song's respective feature beside the direct download. I recommend always checking those out, since most of them have two more MP3s from the same artist.
As for tonight, I have tickets to ODDSAC but am unsure if I will be able to go. Something about Animal Collective visuals and a stomach illness does not go well together. Regardless though, I have been looking forward to it for awhile, so I will be shocked if I fail to show up (and write a consequential feature). Hopefully quality music and Lost can heal me tonight.
01. The Radio Dept. – Never Follow Suit (post)
02. The Morning Benders – Promises (post)
03. Wilderness Survival – Overnight (post)
04. The Kissaway Trail – Painter (post)
05. Lali Puna – Remember (post)
06. jj – Let Go (post)
07. White Hinterland – Icarus (post)
08. Blair – Murder (post)
09. Magnetic Fields – It's a Crime (post)
10. Sambassadeur – Albatross (post)
11. Son Lux – Weapons V (post)
12. The Morning Benders – Stitches (post)