Obscure Sound: Best of March 2010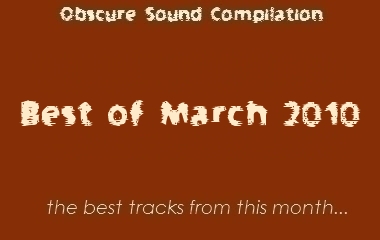 80°F weather, baseball's home opener, swatting bugs… the past few days have shown spring in full bloom. These aspects, from baseball to bug spray, are often heavily romanticized because anything is better than winter. A lot of people are high-fiving one another simply because they got through the winter. Record-setting blizzards in NYC can do that to you. As a result, the appropriate somberness of winter is usually replaced with a feeling of exhilaration and anticipation for summer, a trend that is also echoed in the latest musical features. Many of these artists – specifically in the vein of Gorillaz, Weller, and MGMT – will be a few of this summer's hottest artists, their bustling and infectious sounds coinciding nicely with spring's universalized feeling of "rebirth". Unfortunately last month was not all well with the passing of Alex Chilton, but optimistically a death like this could bring light to an artist who really deserves it.
We can hope the weather keeps up with the abundance of great new music.
01. Gorillaz – Rhinestone Eyes (post)
02. Caribou – Jamelia (post)
03. Sam Amidon – You Better Mind (post)
04. Kammerflimmer Kollektief – Move Right In (post)
05. Paul Weller – Aim High (post)
06. MGMT – Flash Delirium (post)
07. Big Star – Life Is White (post)
08. Phantom Power – Tunnel Vision (post)
09. MSTRKRFT – Bounce (feat. N.O.R.E. & Isis) (post)
10. Acoustic Family Creeps – Rain On (post)
11. Sleigh Bells – Crown on the Ground (post)
12. Animal Collective – ODDSAC (Sample of Panda Bear's Canoe Song) (post)