Martin Gore + Vince Clarke = VCMG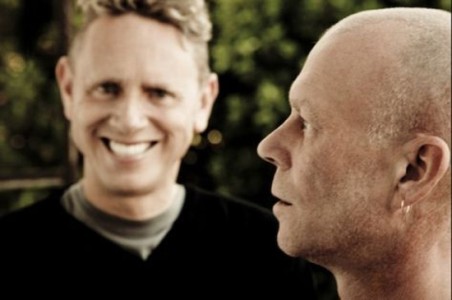 Synth-pop powerhouses Martin Gore and Vince Clarke have formed a band, VCMG, and will release a series of EPs and a new album in early 2012. Their first EP, Spock, will be released November 30th through Beatport, followed by a wide release on December 13th. Clarke and Gore last shared album credits on Depeche Mode's 1981 debut album, Speak & Spell.
The two first worked together in the late '70s, when Clarke, Gore, and Andy Fletcher were a part of a band called French Look, which would later become Composition of Sound and – with the arrival of Dave Gahan and departure of Clarke in 1981 – its ultimate incarnation, Depeche Mode. Clarke went on to form several projects (Yazoo, The Assembly) until his greatest success with Erasure, the popular electro-pop duo with Clarke and Andy Bell.
Gore has served as the chief songwriter of Depeche Mode, the most successful electronic band in music history. A strong case could be made that Clarke and Erasure, who have sold over 25 million albums, are in strong running for second place. So to call VCMG a synth-pop supergroup (say it fast) is certainly not an overstatement. It's pretty much a given that their debut full-length will be lots of fun. As for the album's sound? It may be more minimal-leaning than either of their main projects. "I've been getting into and listening to a lot of minimal dance music," Clarke recently said, "and I got really intrigued by all the sound… I realized I needed a collaborator… so it occurred to me to talk to Martin."
Depeche Mode – Stories of Old (studio outtake)

MP3: Depeche Mode – John The Revelator

Erasure – When I Start To (Break It All Down)

Erasure – Be With You (Starshapes Remix)
Depeche Mode / Erasure / BUY

blogspot vcmg vince clarke martin gore download
characteristics of electronic pop
clark gore ssss rar