Obscure Sound: Best of February 2012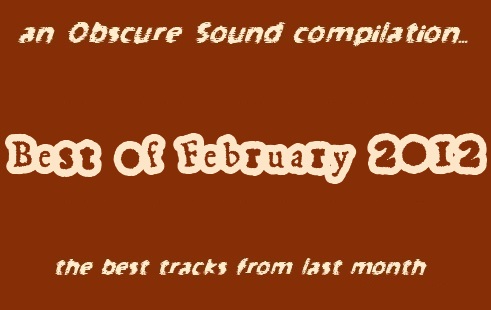 I apologize for the delay this month. I wanted to have this one out two weeks ago, but I've been extremely busy. Nonetheless, there's a bunch of great stuff from last month to revisit. The Frankie Rose track "Know Me" is exceptionally catchy, as is Bryan Scary's slice of rock-opera "Ziegfield Station". Rocket Juice and the Moon sound exactly what you'd expect from a Damon Albarn supergroup with Slash and Tony Allen. It's a tightly-wound funk fusion set to appear on their fun debut. Erykah Badu's vocal role is an extra positive. New material from old friends The Explorers Club, Andrew Bird, and Cats On Fire are all great as well. Explorers Club's new album, Grand Hotel, was particularly notable — read the review here. Albums from them, Silver Swans, and Lambchop were a few of February's best releases.
Some familiar faces like Grimes, Arctic Monkeys, and The Cribs also returned with fun material, as did Ross Fish with his excellent "Puzzles". I wrote about his first album in 2010 and, while that was enjoyable, his new material sounds like a big step forward. Other under-exposed talents like Reuben Bullock, Koko and the Sweetmeats, and Marie Lala also deserve some attention. In my opinion February was a stylistically diverse and all-around great month in music. With several of these tracks on upcoming albums, there's plenty to look forward to.
01. Rocket Juice and the Moon – Hey Shooter (post)
02. Frankie Rose – Know Me (post)
03. Bryan Scary – Ziegfield Station (post)
04. Cats On Fire – A Few Empty Waves (post)
05. Andrew Bird – The Crown Salesman (post)
06. The Explorers Club – Anticipatin' (post)
07. Ross Fish – Puzzles (post)
08. Lambchop – Gone Tomorrow (post)
09. Grimes – Angel (post)
10. Silver Swans – Around You (post)
11. Arctic Monkeys – R U Mine? (post)
12. Marie Lalá – Mrs. Sleepyhead (post)
13. Moonface – Teary Eyes and Bloody Lips (post)
14. Reuben Bullock – Avails of Loneliness (post)
15. Koko and the Sweetmeats – Love Song to Make Us Millions (Side A) (post)
16. The Cribs – Chi-Town (post)
17. The Neat – Hips (post)
18. Deerhunter – Curve (post)
DOWNLOAD ENTIRE COMPILATION>>> (104 MB, .RAR)