Full EP: Time Travelers – Vacationland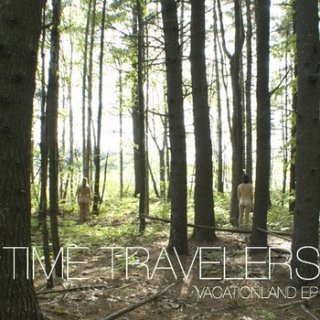 The sonorous folk-rock of Time Travelers potentially could make someone run around naked in a forest. The album cover implies as much. This Maine-based group, now living in Brooklyn, craft free-spirited and optimistic tunes much in the vein of Fleet Foxes, Warm Weather, and Local Natives. Their newest release, Vacationland EP, is a collection of songs the band recorded in Maine one month before relocating to Brooklyn. It's available for free on their Bandcamp.
"Time Travelers formed several years ago when we were all college students together in Maine," the band wrote. "We spent months cooped up in the long, cold winters, writing songs and playing shows, all drawn together by the mutual agreement that being in a band was really the only thing we could or wanted to do." A major highlight on the EP is "Abalone", where a droning guitar progression expands into a rich, swirling fusion of Appalachian folk and alt-rock. This expansion occurs after the drums emerge dexterously, which also prompts the vocals to kick their intensity up a notch; the likeness to Robin Pecknold is hard to miss. Time Travelers' sound is more electric and upbeat, though with the same sort of stoned-in-a-forest folk-rock sound we've come to love.