Obscure Sound: Best of September 2012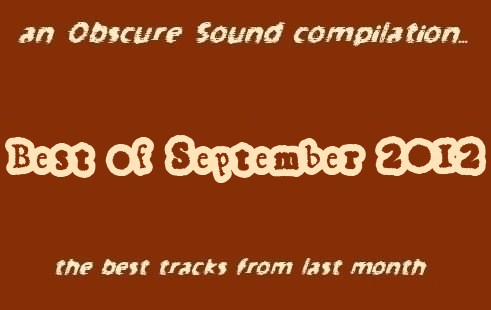 Here are the 45 bands in two weeks that I promised. Variety shouldn't be an issue. If you haven't digested the tardy August compilation yet, September's rendition expands your plate, and palate. This was one of those compilations where I struggled compiling the track sequence. I consider the second half to be just as good as the first half; the listing is not in order of attempted flow, not quality per say. I prefer to spread the genres around to keep things exciting, and the first five tracks represent that especially. Kuky Tala's "Turi" presents stunning folk with twists and turns that help support an incredibly ethereal atmosphere, combining aspects of electro-pop and rock to make the genre difficult to classify. The catchy indie-rock of Creeptones and Swank Motel is more direct in approach, as well as the bubbly electronica of Girls Casino and Mykus. Girls Casino specializes in a soothing combination of club and chillwave, with Mykus taking a more cut 'n' copy sample approach that leads to his own unique sound. I'm especially impressed with the two Creeptones tracks on here, hence why I included both. I always have a sweet spot for well-crafted power-pop.
This compilation may feature the most unsigned and small label artists to date, but in no way does that mean quality is sacrificed. I hope listeners will appreciate the under-exposed talent on here. Meme's "Fallen" reminds me of Chromatics' late-night electro rides; it would've fit nicely on the Drive soundtrack. The Last Names, a side project of a Bishop Allen member, is just as contagious as fans would expect. I also love how Hailer replicates the sound of '90s Brit-pop and post-punk variants so well, specifically of The Auteurs with hints of Suede. The Aussie group have a bright future ahead of them. Speaking of '90s alt-rock imitations, does anyone else hear the Placebo influence in Life Size Maps' superb "Darkling"? I do, and love it. The Zolas' "Knot in My Heart" did great on Hype Machine, and it's easy to see why. So did the ambient experiments of Tape Sounds, which closes off this compilation with the beautiful "Cosmosis". I know I say this quite a bit, but this month's compilation is one of my favorites so far. What do you think?
01. Kuky Tala – "Turi" (post)
02. Creeptones – "Back in a Few" (post)
03. Girls Casino – "Girls" (post)
04. Mykus – "Electric Fizz" (ft. Fruit Shoes) (post)
05. Swank Motel – "Away's Away" (post)
06. Meme – "Fallen" (post)
07. The Last Names – "The Dirt" (post)
08. Hailer – "Spooky Clams" (post)
09. Zach Schimpf – "Movin' Right Along" (post)
10. The Amazing – "Gentle Stream" (post)
11. Creeptones – "Outlaw Tasty" (post)
12. The Zolas – "Knot in My Heart" (post)
13. Life Size Maps – "Darkling" (post)
14. Young Holidays – "Pretender" (post)
15. Vuvuzela – "Rings and Things" (post)
16. Alpaca Sports – "I Was Running" (post)
17. Beast Patrol – "Plaster" (post)
18. Boy Friends Club – "Paradise" (post)
19. The Curious Incident – "Impostor" (post)
20. Tape Sounds – "Cosmosis" (post)
DOWNLOAD ENTIRE COMPILATION>>>
 (134 MB, .RAR)