Obscure Sound: Best of February 2013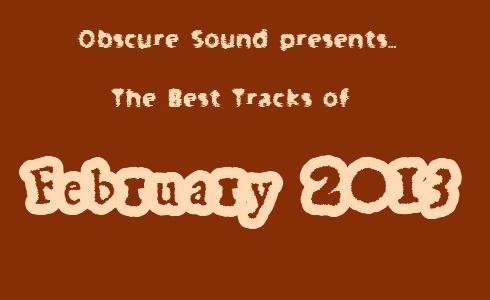 February's compilation is a tidy 13 tracks, a few less than usual but just as strong as any month. My recent move back to the East Coast made posting difficult the past week; moving is one thing, but moving across the country for the second time in six months is a nightmare. Readers can expect updates to resume on a daily basis now that everything is settled. I'm looking forward to getting re-acquainted with the NYC scene and its venues again. The East Coast has drawn me back and I plan to make the most of it.
As for this month's compilation, it's kicked off by jangle-pop specialist Travis Bretzer and his alluring new track "Lady Red". Both that and "Giving Up" show Bretzer as a special songwriter that's certainly worth keeping an eye on. Swedish electro-pop darling Sally Shapiro returned with a nice album in Somewhere Else, with my personal favorite "What Can I Do" showing the glittery synth arpeggios and cooing vocals that Shapiro always excels at. Pool Holograph remind me of early Wire with the explosive post-punk anthem "Incognito"; it's obviously a very complementary comparison. Some fun pop songs from The Bicycles, Psychic Twin, and the Syd Barrett-influenced Jacco Gardner follow. Then Varg conjures visions of a snow-blanketed Scandinavian forest with "Wolves", a breathy folk track with plenty of sparse atmospheric touches. The Veils' long-awaited return is also welcome, in addition to memorable showings from Belgian Fog, Wild Leaves, Ploy, and Dashel Hammerstein.
01. Travis Bretzer – "Lady Red" (post)
02. Sally Shapiro – "What Can I Do" (post)
03. Pool Holograph – "Incognito" (post)
04. The Bicycles – "Bandana Cat" (post)
05. Psychic Twin – "Dream State" (post)
06. Jacco Gardner – "The Battle of Little Jane" (post)
07. Travis Bretzer – "Giving Up" (post)
08. Varg - "Wolves" (post)
09. The Veils – "Through the Deep, Dark Wood" (post)
10. Belgian Fog – "Wait for Help" (post)
11. Wild Leaves – "Wind & Rain" (post)
12. Ploy – "XIX" (post)
13. Dashel Hammerstein – "Down Down Boy" (post)
DOWNLOAD ENTIRE COMPILATION>>>
 (68 MB, .RAR)
The compilation can be extracted using WinRAR.
best of February 2013
Best of February
best of february 2013 track mp3