Obscure Sound: Best of March 2013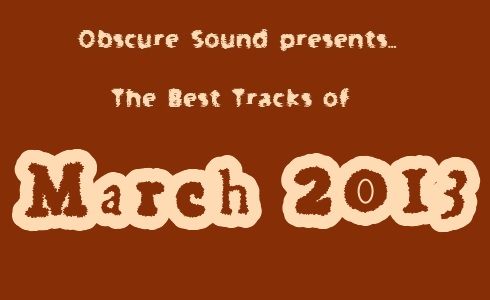 March provided a nice mixture of old favorites and rising newcomers, the former led notably by The Mary Onettes, The Besnard Lakes, Merchandise, and the continuing partnership of Ryuichi Sakamoto and David Byrne. Swedish pop whizzes The Mary Onettes present "Blues", a very solid track that reminds of The Cure's bounciest efforts, something like "Boys Don't Cry" meshed with the bouncy keyboard-led pop of Supertramp. An oddly infectious fusion, to be sure. The Besnard Lakes' released yet another excellent album with Until In Excess, Imperceptible UFO, and the hypnotic allure of "People of the Sticks" stands as one of its many highlights. My personal favorite off the album is "The Spectre", which sounds like The Beach Boys rockin' on ghost ship, but I'll leave that to listeners to check the album in full. OS favorites Merchandise also return with a new album in Totale Nite, released yesterday. Opener "Who Are You?" is a nice way to dig into that beauty. Last but not least, Sakamoto and Byrne craft a beautiful ode to children still suffering from the effects of Japan's tsunami disaster. Alongside its heartwarming video, "Psychedelic Afternoon" will bring a smile to your face.
Familiarity is always nice, but I'm particularly fond of many artists on this compilation that I had not heard about prior to March. Coronado's "Heart in a Hand" elicited a countless number of replays for me throughout the month, its danceable and funk-tinged arsenal propelled by heavily emotive vocal performances and a bevvy of electro-laden hooks. They're on the prowl for big things. Val Bloom's "The Wrestler" also entranced me with its suave incorporation of Afro-pop and electro-acoustic pop. Mister Goodnite, the soul and sample-loving side project of Mini Mansions' Tyler Parkford, will also make listeners swoon with "You're Too Cool" — an apt title for this suave accomplishment. Retracing to the bare-bones acoustic beauty of El Cantador's "Pilgrims", we are reminded that not everything has to involve samples or production tricks to be resonantly beautiful. Then we round the final lap with a few lovable oddballs in Teams and Lord Russ, both artists who turn their love for vintage pop into idiosyncratically modern gems. We conclude with two glistening electronic efforts, and fade into the sunset.
01. Coronado – "Heart in a Hand" (post)
02. Val Bloom – "The Wrestler" (post)
03. The Mary Onettes – "Blues" (post)
04. The Besnard Lakes – "People of the Sticks" (post)
05. Merchandise – "Who Are You?" (post)
06. Ryuichi Sakamoto and David Byrne – "Psychedelic Afternoon" (post)
07. Mister Goodnight – "You're Too Cool" (post)
08. Pick a Piper – "Lucid in Fjords" (post)
09. El Cantador – "Pilgrims" (post)
10. Lord Russ – "Cadaques Cabaret" (post)
11. Teams – "Hatsumi" (post)
12. 23:23 – "All of My Heart" (post)
13. Galimatias – "Strawberries" (post)
14. Ann Grace – "Calling Dreams" (Stan Dart remix) (post)
DOWNLOAD ENTIRE COMPILATION>>>
 (82.3 MB, .RAR)