Obscure Sound: Best of May 2013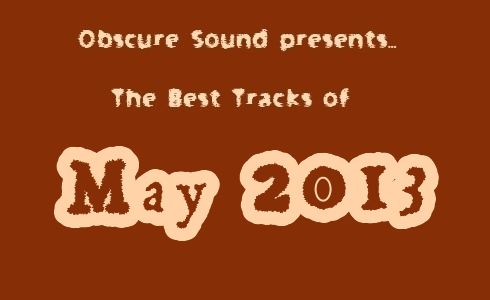 For those not quite excited about expanding electricity bills and public pool fees, these tracks should serve as a nice refreshment. Combine with an ice-cold drink and you should be good. Sample-infused dance-pop is an apt way to start this one out, and The Derevolutions do just that with "Disappoint Your Teacher", which is packed with unbridled energy, French samples, and a bevvy of hooks. The Derevolutions appear twice more here, with the warbly psych-pop gem "What's With the Future" and a brass-studded remix of Danny Brown's "Grown Up". All three are perfect for hot weather. Grapell and Tunng sit in a similar zone of ambitious psych-folk, balancing nicely between the bizarrely creative and instantly accessible. Both groups are poised for a big 2013. Pure Bathing Culture's "Pendulum" has been hitting the blogosphere like the sun on blacktop, and praise is being felt all around for a result that sounds somewhat like a meshing of Fleetwood Mac, Bananarama, and Camera Obscura. It's fun stuff. Speaking of easy-listening indie-pop, The Pastels return with an enjoyable new album, and the gorgeous non-album cut "Illuminum Song". Originally a Hideki Kaji track, this interpretation brings its warm and fuzzy chords to an even more refined light.
In addition to fleet radio-ready rockers from Blinker the Star, Humfree Bug Art, Sillyboy, and Young Things, the second half contains some welcome experimentation. Brooklyn-based duo Trabajo, who utilize gamelan samples throughout their album, produce an entirely unique sound. The same can be said for Bowjia, whose deep electro cut "Hooves Like Jäger" numbs into listeners' minds with its aquatic-like lull. Norwegian group Verdensrommet conclude this month's compilation with the gorgeous "Nytt", a spacey epic where trippy synth arps evolve into a guitar-accompanied pop thriller. It's a nice representation of many artists this month, and their abilities to keep efforts instantly memorable without sacrificing innovation and exploration. Stay cool out there.
01. The Derevolutions – "Disappoint Your Teacher" (post)
02. Grapell – "White Fox in the Snow" (post)
03. Tunng – "The Village" (post)
04. Pure Bathing Culture – "Pendulum" (post)
05. The Pastels – "Illuminum Song" (post)
06. Young Holidays – "Jackie Kennedy" (post)
07. The Derevolutions – "What's With the Future" (post)
08. Trabajo – "The Myth" (post)
09. Blinker the Star – "Future Fires" (post)
10. Cliffs – "Four Seasons" (post)
11. Bowjia – "Hooves Like Jager" (post)
12. Humfree Bug Art – "Dancing Kites" (post)
13. Sillyboy – "Nature of Things" (post)
14. Younger Still – "Magic" (post)
15. Danny Brown – "Grown Up" (The Derevolutions remix) (post)
16. Young Things – "Sore Eyes" (post)
17. Split Screens – "Born" (post)
18. Their Planes – "The Hunter" (post)
19. Landmarks – "Cuscutta" (post)
20. Verdensrommet – "Nytt" (post)
DOWNLOAD ENTIRE COMPILATION>>>
 (125 MB, .RAR)