Obscure Sound: Best of June 2013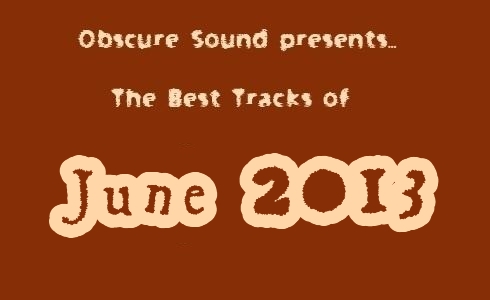 In celebration of July 4th, all compilations – starting with this one – can be streamed seamlessly via Soundcloud. I realize not everyone wants to download an entire .RAR file, so this is an easy way to access the compilation immediately, both on desktop and mobile. The player above will play every one of the tracks on the compilation, in the highest quality available. Of course, you can still download the compilation as a .RAR file below. In other site news, we recently upgraded to a new server last night, so please excuse any connection difficulties the past 24 hours. It should all be running smoothly now.
This month is split somewhat into two halves stylistically, the first comprising rock and pop songs that are conventionally ideal for July 4th festivities. The second half is steeped in darkly atmospheric electronica, though with a few more rockers closing things out. I feel this is one of the most consistent compilations to date. I hope you enjoy it! I hope everyone has a happy July 4th and, if you're not celebrating that, a great weekend in general.
01. TV Girl – "Easier to Cry" (post)
02. The Green Fields – "When the Blowing Wind Comes" (post)
03. The Derevolutions – "Yell It Out!" (post)
04. Mendream – "Kumquat (Sunday Morning)" (post)
05. Orikami & Hai5Gohst – "A Cosmic Dance" (post)
06. Dent May – "Born Too Late" (post)
07. Glass Elephant – "Cedar Shake Home" (post)
08. Heatwarmer – "Keep Shining Through" (post)
09. Ladyhips – "Degrees of Separation" (post)
10. Smith Westerns – "3am Spiritual" (post)
11. Mood Rings – "The Line" (post)
12. CFCF – "Camera" (post)
13. Boss & Swan – "Raging Bull" (post)
14. Budo – "Circles" (post)
15. Givan Lotz – "Galaxy" (post)
16. Benbrick – "Beyond That Nothing" (post)
17. Catching Flies – "Grey Skies" (post)
18. Souvenir Stand – "All I Want to Know" (post)
19. Warships – "Sleeper Hold" (post)
20. Poupée F – "Celixipi" (post)
DOWNLOAD ENTIRE COMPILATION>>>
 (125 MB, .RAR)