Posted
April 24, 2007 by Mike Mineo
in Features
The Midway State: An Enjoyable Cliché?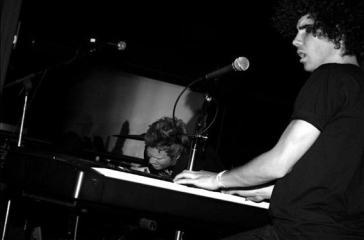 Calling a band "the next big thing" has been overused as of late. As most of us know, "big" does not necessarily mean "good", with the common exception as to when one is speaking in terms of commercial success. In that case, corporate money can buy every bubblegum-chewing teeny-bopper on this side of the universe. Admittedly, their individuality is as shallow as a puddle, but I don't think that these "big" bands care much. After all, warm bodies equate to purchases of tickets, albums, and merchandise, right? It is sadly so. Ah, it's rather depressing if you drag yourself into an unnecessary deep thought about it and the sociological reasoning involved. Personally, I was never fond of "the next big thing". I look back and think of artists who were acclaimed from the get-go, whether it be Avril or Britney. Sure, I guess The Arcade Fire could hold such a title inside the small indie scene for which I enjoy and write for, but honestly, such a band will never hold much merit in the larger society where judgment is based on how short a girl's skirt is, how big a guy's arms are, and how fat someone's wallet is.
When I listen to a band like The Midway State, this "big thing" mentality comes to my mind. Sure, their approach is traditionally simplistic with a piano, guitar, bass, and drum, but the four individuals in the Toronto-based rock group are writing songs that are sure to have several social clichés in a frenzy. The lyrics are romantic, the music is devastatingly catchy, and the vocals are aptly integrative and fluid. What else could a mindless high school girl ask for? Not much, but the odd thing is that The Midway State are likely to buy a few more, as many would say, "respectable" fans who encompass an actual taste in music. The hooks are easily discernible and the instrumentation is occasionally impressive, enough to at least maintain notability. The four-piece formed in 2002 after playing their first show at the Mountain View Hotel in Collingwood, Ontario. The band then set out on their first-ever national tour, to which the band called "a crazy, an awesome experience." At the time, some of the band's members were no older than 18, getting an early glimpse of the spotlight while most of their friends were frantically preparing for college. In September of 2004, The Midway State caught the attention of acclaimed producer and Juno Award winner Gavin Brown. Blown away by their potential, he began to work with them in the studio. After two years of writing a handful of songs and touring with the likes of Shiny Tour Guns and Grady, they released their debut EP, Eponymous, in 2006.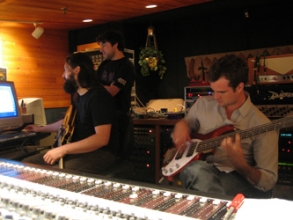 At the core of the group is Nathan Ferraro, a vocalist/pianist who had been writing songs since the age of twelve. By the age of seventeen, he had already amassed a large fan base with The Midway State and had toured most of the country. Initially the band moved away from their rural setting to downtown Toronto, living in a one-bedroom apartment as they continued to master their style and sound. After a few initial and less experienced band members left, Ferraro and fellow co-founder/drummer Daenen Bramberger began their search for replacements eventually found a delightfully capable pair in guitarist Michael Wise and bassist Mike Kirsh. After the release of their debut EP last year, the band has caught a couple of mainstream breaks, though with minimal results. Despite their song "Unaware" appearing on The O.C. on February 1st of this year and being a featured artist on MTV's e2, the four-piece has yet to catch on like fire in either Canada or the United States. That being said, they still have a respectable following and they have yet to release their debut full-length album, which is in the midst of production and should be completed by the end of the year.
The Midway State has been compared to the likes of Coldplay and The Fray, though I find the band to hold distinctive similarities to New London Fire and Ben Folds. Though the songs are hardly as complex or masterfully executed as Folds, Ferraro is a capable pianist and has vocals that have enough packed emotion to send a chill up your spine. A likable example is "Nobody Understands", a track that starts off slowly and tediously but eventually unravels into a gem. Initially speaking under the slight stain of a synth, Ferraro introduces a song that is wound by impetuous romantic fervor. "Can't cool off, you're on fire," Ferraro introduces the song rather emphatically, "no cold tears gonna put you out." After a few melodic repetitions, Ferraro sprinkles in a few keys and signals the entry of a more active piano instrumentation and the addition of a rhythm section. Eventually, a guitar comes into play and Ferraro's vocal emotion increases in synchronization with the instrumental involvement. Though the topic is unoriginal and the musical aspect is sanctioned at best, Ferraro's emotional durability flies high as he muses about falling in love with a rebel who is looked down upon by society. Ferraro pulls it off with an imaginatively wistful sense of awareness and passion, backed by an array of hooks and engaging outcomes. "A Million Fireflys" is a nice demonstration of Ferraro's general ability, even if the chorus and hook feels somewhat forced with the over-distorted guitars and sudden change of key. "Change For You" is not my cup of tea but it would not be unrealistic to say that it should receive a nice amount of radio playability. Even if The Midway State is a bit too commonplace for your taste, there is little to deny in terms of their potential and songwriting skill.
——————————————————————————————
The Midway State – Nobody Understands
[audio:https://obscuresound.com/mp3/midway-nob.mp3]
——————————————————————————————
The Midway State – A Million Fireflies
[audio:https://obscuresound.com/mp3/midway-ami.mp3]
——————————————————————————————
The Midway State – Change For You

[audio:https://obscuresound.com/mp3/midway-cha.mp3]
——————————————————————————————