Posted
June 9, 2017 by Mike Mineo
in Features
Hot97 Summer Jam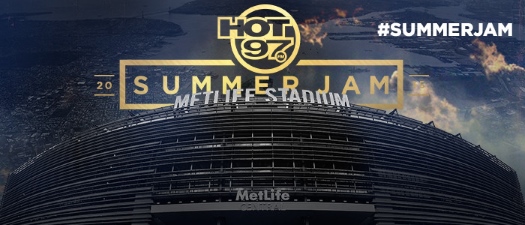 A prominent event since opening 24 years ago, Hot97 Summer Jam is always something for hip-hop fans to look forward to. This year, the Summer Jam will take place on June 11th at MetLife Stadium, with the festival stage opening at 2:30pm and the stadium show starting at 7pm.
Hot97 Summer Jam has been host a number of can't-miss collaborations throughout the years, including Nas and 50 Cent performing together, Kanye West bringing Jay-Z out of "retirement", Nicki Minaj performing with Drake, and a Snoop Dogg-Wiz Khalifa set.
Obscure Sound readers will be particularly interested in emerging hip-hop acts. Many will be taking the stage on the Festival Village stage, where acts like Childish Gambino, Travis Scott, and Fetty Wap have played at early in their careers. The Festival Village also provides the opportunity to interact with a variety of hip-hop brands.
The video below is also worth checking out for more information on Hot97 Summer Jam:
Hot97 also features special amenities like a phone-charging lounge, curated Instagram art and live feed, a collaborative message wall and a DJ Mix Stage, where mixers will keep the crowd excited.
When the festival stage for Hot97 Summer Jam 2017 opens at 2:30pm on June 11th, a wide variety of hip-hop fans will begin to experience a memorable hip-hop festival that has a variety of acts, brand opportunities and places to relax and enjoy the sights and sounds.
This is a sponsored post.