Posted
July 26, 2017 by Mike Mineo
in Features
Places to Spend a Family Vacation in Ukraine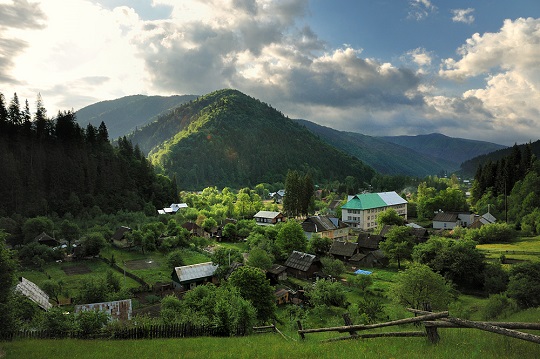 Ukraine is a country that offers numerous ways and destinations to spend a great time with your soul mate, friends, and family. You may find different travel options on destinations.com.ua including the extreme tourism, green tourism, cycling tourism etc. However, when it is referred to a vacation with children, the following criteria are to be taken into account: board and lodging, dining options and attractions that are equally interesting to the children and adults.
We have prepared the following top destinations to make your family vacation well remembered.
Bile Lake. Rivne Region
This incredibly beautiful karst lake has an increased content of glycerin. It means that the lake has a white sandy bottom, soft and healthy water. Bathing the Bile Lake makes a skin soft requiring no additional moistening. In addition, the water heals the problem areas.
The rest on Bile Lake does not offer any interesting excursions. Nevertheless, this destination is highly recommended to visit. Here one will find a spacious beach with sports areas, a moorage with boats and catamarans, a huge area of the adjacent base, the fishing docks etc. The destination is not overcrowded with the tourist and will definitely make your vacation unforgettable.
Ust-Chorna. Zakarpattia Region
The former name of this eco health resort of Ukraine is Koenigsfeld that means "the royal field". The forest walks through the resort are the hallmark of Ust-Chorna. A path with twenty waterfalls will impress you. Besides, the water is clear and you can drink it directly from the stream. The waterfalls flow one in another forming the small lakes among the stones. Feel free to bathe in them.
The other options of a splendid rest include a horse-ride, driving the quad bikes or SUVs, visiting the mineral sources, strolling in the meadows etc.
Kolochava. Zakarpattia Region
Another representative of the attractions of the Zakarpattia Region is Kolochava – a unique village of 10 museums. The museums offer you to plunge into the history from different perspectives. For example, the open-air museum named "Stare Selo" (the old village) demonstrates a collection of ancient dressing and shoes, old vehicles and other cunning vintage equipment. Your children will like it.
The local narrow-gauge railway is also a great way to travel across the area. Another special attraction is the well-known parrot reserve – a unique private poultry farm in Ukraine with more than 2000 breeds of parrots and pigeons.
Slavske. Lviv Region
Slavske is a famous winter resort. However, it is worth a visit in the summer. There are the special cycling routes and a large number of routes for the quad bikes in the mountains. In addition, you may ride a horse with your children.
Such great features as a ropeway, a heated pool with a view on the mountain massif, a large ropes course for children, a paintball club etc. are available in the numerous separate entertainment complexes. Your day will be filled with the bright and pleasant emotions.