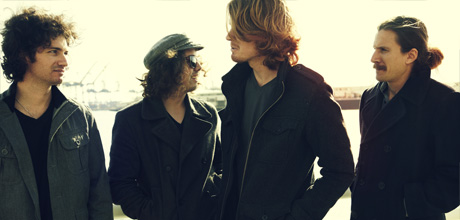 The Wind's excellent double-album, Harum-Scarum, is one of my favorite releases from the past year. You can check out the review here.
GroopEase is offering an ABSURD discount on the album: 23 songs for $3! It's an absolute steal. Get it HERE.
I spoke with the band's singer Chad Marshman:
What's the story behind the album's name, Harum-Scarum?
Harum-Scarum means "in a reckless way or of a reckless nature", and there was something about the word that sort of summed up the songwriting experience for us, or at least me. There is also something ironic about how the title describes the recording process. We are perfectionists through and through. Every single detail had to be perfect. We would slave over the tiniest details like the sound of a tambourine or the tone and blend of a vocal harmony. We also liked the idea of calling the first disc "Harum" and the second "Scarum", but we never officially did that.
Was it originally intended to be a double-album at first? It's one of the few double-albums I've heard where both sides are equally excellent, so I can imagine it would have been difficult to cut any out.
I don't believe we originally intended to release a double-album when we first started the project. We did, however, discuss it fairly early on in the process. We all loved the idea of releasing a double-album, but we weren't sure if we wanted to release it as two separate albums that could be compiled down the road or whether or not we wanted to trim it down into one album. I know I, personally, got very attached to the songs, and so it was difficult to cut any out. I actually don't think there were any songs that didn't make the album.
Creating something that massive yet consistent often requires some great collaboration. How long have you known and been working musically with Kevin, Chip, and Nick?
Kevin and I have been writing and recording together for longer than I can remember. I remember times when Kevin and I would stay up till 6 or 7 in the morning recording and writing day after day in this big empty warehouse. We would walk to the 24 hour convenience store down the street and buy coffee at 3 am. I don't think our bodies have forgiven us for that yet. Anyways, Chip and Nick, brothers as they are, have been playing music together their whole lives, and with us a good part of that, and with that there I'll end this here… and that's that.
One thing I love about the album is the variety of different vocal styles. It sounds like Joe Cocker is belting out his gravelly voice on "Come On", some others have the narrative punch of a Tom Waits track, and then a beautiful acoustic-driven ballad like "Oh, Hadihu" takes on the intimate singer/songwriter feel. That?s not to mention the loads of Beach Boys-inspired harmonies. Do you have your vocal delivery in mind before you write the accompaniments, or do you just figure it out after you're satisfied with the instrumentals?
It really depends on the song. For theatrical songs like "Unless, I'm a Liar" and "I'ze Born a Rich Man", the character voices were sort of built in to the melodies. With songs like "Come On" and "Sunshine and Peace of Mind", I originally wanted my voice to be cleaner with more of a Motown feel, but fortunately the songs are out of my range. So, they came out all gravelly, which I think suits them much better. A lot of it is just matching the song with the right vocal approach.
I understand you recorded this album yourselves. What was the recording process like? What do you think the pros and cons of self-recording and producing and album?
We recorded the album in three locations. We tracked a lot of the drums and foundation tracks live in that empty warehouse I mentioned earlier. We used a lot of blankets to help separate the instruments. The size and height of the warehouse really added a great vibe and depth to the tracks. The rest of the album was tracked at my house with the exception of the piano tracks which were recorded at Kevin's place.
The great thing about recording an album yourself is that you are able to spend as much time as you like on whatever you like. We were able to experiment with alternate arrangements, tempos, lyrics, structures, tones, and basically we were able to do whatever we wanted. We also saved quite a bit on studio fees. The downside is that we had to do all of the work. I think the entire process would have been much more exciting if we didn't have to engineer it.
You mentioned that Brian Wilson's Smile forever changed the way you look at music. What about it touched you so much?
Oh man! I remember when I first heard it. I had been listening to Pet Sounds and Sgt. Peppers which, believe it or not, I didn't discover until I was probably 21. That was huge for me. I had grown up listening to the indie trend bands of the time, and then I heard The Beatles and The Kinks and The Beach Boys, and it was like listening to the music of the future and realizing it was 50+ years old. Not to say that music hasn't progressed, but for where I was at the time harmonically, it was quite something. Then, I heard "Smile" and pretty much threw everything out the window. It changed everything for me, immediately. I felt like music could do anything and should.
What about Sunflower? Your thoughts on that? I can definitely hear some of that on your more subdued efforts.
I think the entire album influenced The Wind. I think it's more apparent on the theatrical pieces, but our vocal style has been heavily influenced by Smile-era Beach Boys. As for Sunflower, I definitely love the track "All I Wanna Do". It sounds like it could be popular right now, but I haven't spent enough time with the album.
Brian?s great, but so is Dennis. I love both of his solo albums, what about you?
I haven't really listened to Dennis, but he's on my list.
Are there any songs on Harum Scarum that you feel proudest of? I imagine producing a song as diverse and multi-layered as "Monsters" has to make you feel satisfied. It's just a perfect closer.
The interesting thing about "Monsters" is that is started as a joke in practice, but now it's one of my favorite tracks off of the album. There are a lot of subtle accomplishments throughout the album for me. I have always been proud of "This is the Modern World". It was one of my first really theatrical, experimental pieces, and I think it remains one of my favorites. Other personal accomplishments that I'll put on my musical mantlepiece would be the lyrics to "Some Place", my vocal takes on songs like "Come On" or "Sunshine and Peace of Mind" and what we, as a group, accomplished together on this album.
Any new artists that you guys are into? Your sound reminds me of many throwback artists, but some are recent like Bryan Scarry, Dr. Dog, and Man Man. Any thoughts on those?
It's kind of funny, I was stuck in this sort of mentality that popular music peaked in the 60's and 70's (with the exception of artists like Radiohead and Bjork) up till we released the album. For some reason, once
the album was finished I started getting into a lot of newer artists – Grizzly Bear, Fleet Foxes, Beach House, Arcade Fire and Deerhunter. I haven't heard Bryan Scarry, but I do enjoy Dr. Dog and Man Man.
What's next for The Wind? You guys touring, recording new material, taking a break?
We've got a lot of things in the works right now. We're going to do a video soon, we'll be planning some small tours, and we've just begun discussing the next album. We have a lot of new material, and we'll most likely start recording next month.
The Wind – Sunshine and Peace of Mind