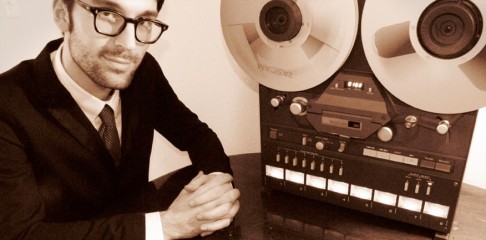 Hailing from the small university town of Ann Arbor, Jonathan Visger's solo project Absofacto produces a delightful sound that reconstitutes the ghosts of indie rock's past into something vaguely infectious. If one were a lazy music critic and decided to use that "if (blank), (blank), and (blank) were put in a blender/sat next to each other on an airplane/put in the oven with lightly salted asparagus" cliché, the Sinking Islands page of Absofacto's cookbook might look like this:
-2/3 cups Spoon's guitar crunch, preferably Series of Sneaks brand, though anything before Kill the Moonlight should work. This is for texture.
-2 teaspoons repeating early '00s indie-rock, with its insistent bass line underscoring the melody.
-1 tablespoon random violin interjections that are vaguely reminiscent of the string breakdown at the end of The Beatles' "The End" – and by proxy – Big Star, Chris Bell's solo work, Field Music, and every other band that has made a lot of their career exploring variations on that riff.
-A pinch of Elliott Smith's waltz-like tendencies, only for track "Punch Drunk on Black Mold".
-A light frosting of Beach House's reverb guitar tone to open your album.
Take ingredients; throw them into Pro Tools for 45 minutes, rotating everything at the 22-minute mark. Sinking Islands should be crunchy on the outside, but soft and flavorful inside, a delicious hors d'oeuvre for the young man's iPod, or the tastefully buzzed/stoned house guest.
However, we aren't lazy critics, and refuse to resort to such clichés. Suffice it to say, Sinking Islands is a well-wrought record; reverb is employed to give dynamism to hard rhythmic guitar, all of which carry out the machinations of fresh and compelling melodies, with only a few missteps.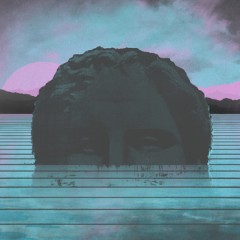 Absofacto's greatest trick is in dynamics; they use lush washes of harmony comparable to the Polyphonic Spree, with the melodic explosion assured by laid-back and quiet verses. Loud-quiet-loud, but not quite; it's quite the same way rock junkies may have been hitherto trained to expect.
Some of these tracks seem ripe for soundtrack inclusion and radio airplay, in particular "Whose Side Are You On?", which I could hear over a montage of some teenager looking ruefully in some other teenager's window at night, contritely while the other plot lines resolve themselves in an equally lazy visual, shorthand on some ongoing television serial drama. This may seem like an insult, but unfortunately many great songs seem to only gain exposure through this avenue.
And you, yes you, the reader. What did you really want out of this post besides some catchy tunes to help the workday go by? This may not be any huge artistic achievement, but it's crafted well enough to maintain the trance while never being uncomfortable enough to break through it. Isn't that what we're looking for in pop most of the time, when we get brutally honest with ourselves?
RIYL: Pixies, Beach House, Spoon, The Beatles, Chris Bell, Big Star, The Shins, Broken Social Scene, Coconut Records
Absofacto – Whose Side Are You On Anyway?

Official Site / Bandcamp / BUY