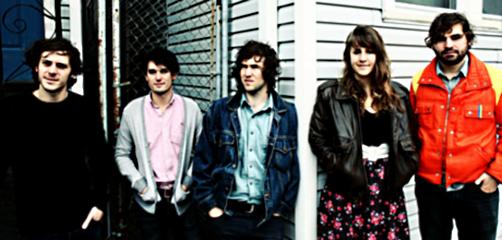 Hailing from Chicago, Santah put catchy, no-frills alternative rock back on the main stage. The five-piece fuse the ambition of all members into a cohesive and successful album, White Noise Bed – a group courtesy of GroopEase, who recently offered their full-length for $3 – a $6 discount. Fans of The Walkmen, The Veils, and The Morning Benders will love this one.
While their name may get you excited for Christmas, Santah have an edgier sound than the conventional Christmas jingles of years' past. "Neighbors & Cousins (Are We Lovers?)" jumps right into the bright effervescence of the group's songwriting, which has a soaring excitable quality reminiscent of The Walkmen and The Black Keys. Guitars, drums, and vocals are layered beautifully to help carry Santah's messages of hope and collective consciousness. It is refreshing to hear a youthful perspective on the world we live in, especially ones omitting generational stereotypes. The members work well together to highlight each other's strengths. The vocals are strong, and help make way for a lively piano melody toward the end of the song. This is where the vocals pick up intensity, and ask a youthfully universal question: "Is anyone out there confused? Oh, me too." Surely, quality music serving as a numbing antidote to an uncertain future is nothing new.
The album's title track "White Noise Bed" does not disappoint; it's one of the best tracks on the album. Stan McConnell's voice is reminiscent of The Veils' Finn Andrews and The Walkmen's Hamilton Leithauser: beautifully raspy with a lot of depth. The fluttering keys are also akin to the style used in the Veils' "Advice for Young Mothers to Be". Santah keep it fresh by layering all of their tightly wound instrumental elements and using straightforwardly effective lyrics that are pertinent to our daily life. While Santah are comparable to many contemporary bands, they do not forget their alternative rock roots. Listening to White Noise Bed can bring one back to certain anthemic rock of the '90s, some of the most prominent examples being Radiohead, Muse, and Stone Temple Pilots. The twangy and soaring "Chips of Paint" is a perfect representation of this. Additionally, "No Other Women" opens with sweet guitar riffs and an equally enticing drum beat. The song sounds instantly familiar with a newly added spice. The balance of the various instrumentation is pleasant and uplifting, producing an easy-flowing tune representative of the album.
White Noise Bed is an accessible album that one can listen to for hours. It is easy to develop nostalgia for the past while listening to Santah, but they are also a new band that has reinvents several relevant trends to their own escalating infectious vein of alt-rock. Sit back, relax, and enjoy the sounds of the present and the past.
RIYL: The Walkmen, The Veils, The Morning Benders, Surfer Blood, Radiohead, Stone Temple Pilots, Spoon, French Kicks, My Morning Jacket, No Age, Girls, Women, Real Estate, Okkervil River

Official Site / MySpace / BUY