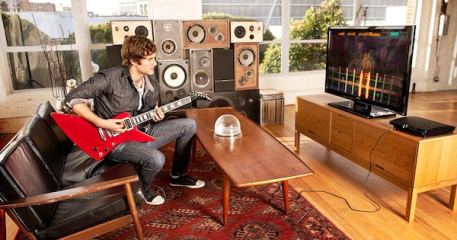 Video games are rarely a relevant topic on this site, but the newly released Rocksmith should make any musician curious – even if they never touched a game console in their life. The premise is excitably simple: plug in a (real) guitar to your Xbox 360 or PS3, and then get immersed in customizable features reminiscent of the Guitar Rig VST, Rock Band, and any premium recording program. With an included plug-to-USB cord, getting started is very simple. Both amateur guitarists and Jimmy Page can jump in and have a great time. You can pick up the game here.
The most fascinating aspect of gaming technology like this, and its application in the music industry, relates to future methods of production and songwriting. Rocksmith goes well beyond basic "guitar lesson" technology. Arcade games are within this game, featuring odes to classics like Dr. Mario, Ducks, and Galaga in a format where your guitar-playing skills determine the outcome. In addition to the dexterous technique challenges for players at a more advanced level, perhaps the game's most fascinating function is its "Amp Mode", which features a vast array of pedal and amp setting for your guitar's playback. One can modify the amp freely, so that your customized tone will play throughout every mode in Rocksmith – from the arcade challenges to the Rock Band-inspired play-through.
Technological innovations aside, the soundtrack of music-themed games like these if arguably the most important aspect. In terms of this site's niche, I haven't seen a tracklisting more enjoyably when it comes to games like these. You have your classics like Bowie, The Cure, Nirvana, The Rolling Stones, Radiohead, etc… but there are also nods to lesser-known, although quite popular in their own right, artists like White Denim, Dan Auerbach, Best Coast, and Sigur Ros. You know, the types of groups featured on this site. In addition to the enjoyably soundtrack, this type of innovation should appeal to music fans and musicians alike. Click here for a full tracklisting, and listen to some clips of the game's featured tracks below.
I have yet to try Rocksmith since it was just released this past Tuesday, but let me know your thoughts if you have. If it's done correctly, this could be the next plateau in music-themed video games.
Check out the game's YouTube channel here to see how it works.
Best Coast – When I'm With You

The Cribs – We Share The Same Skies