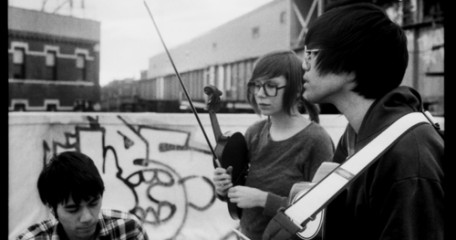 With a sound that immediately brings to mind early Grizzly Bear, Virginia Beach's We Are Trees have made an impressive second EP stock full of lush harmonies, post-Galaxie 500 guitar tones, and laid-back grooves. Hooks are abundant, and each song is a tight piece of pop that mixes elements from the entire canon of American pop music. A laconic '50s call-and-response pattern on the title track "Girlfriend" can fall into an Interpol-style bridge of rusty tremolo, have a surf guitar break in the middle, and still feel like it all fits together.
Album closer "I Don't Believe in Love" tries to bridge We Are Trees' sound with a bed of drone and melodic syllables, which wouldn't sound misplaced on pre-Loveless My Bloody Valentine. Band leader James Nee's vocals sound like a Voxtrot record that had something slipped in its martini. They're slow, mumbled, and he makes good non-idiomatic use of rhythmic stutters, something very rare in indie-rock records. Every song on this record could fall very comfortably into rotation on SiriusXM or the average college radio music show.
The two aforementioned tracks show that We Are Trees, like many recent bands, could stand to speed up their tempos to give more definition to their song structures. Brought up 5-10bpm, every song on Girlfriend could be as good as "I Don't Believe in Love" and the title track. Even so, this is a strong record.
The band has announced on their Bandcamp page that their last show ever was last week. It's unfortunate, but at least we still have Girlfriend.
RIYL: Secret Shine, Beach House, Voxtrot, Galaxie 500, Girls, Grizzly Bear