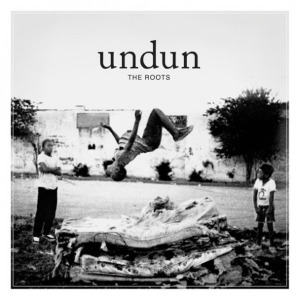 The Roots are certainly kinder to Sufjan Stevens than to Michele Bachmann, who they welcomed on Fallon with a cover of Fishbone's "Lyin' Ass Bitch" (to her obliviousness). Watch here, starting at 22:00, for that, along with her ensuing reaction.
The Roots play another cover on their upcoming concept album undun, which revolves around a character named Redford Stephens. This one isn't insulting in the slightest though. According to drummer/bandleader ?uestlove, it's a complementary nod to Sufjan Stevens' work, specifically his song "Redford" from Michigan.
?uestlove: "We've always loved the song "Redford" from Michigan. So we close the new album with a cover of "Redford." We stretched it out into this four-part movement. Part 1 is Sufjan at the piano performing it. And then Part 2 is a string quartet that we had interpret it. Part 3 is myself and D.D. Jackson, who is an avant-garde piano player. He's probably one of the most dangerous pianists — I don't know how he doesn't have carpal tunnel now. But he just destroys, literally, destroys the piano. The final movement, which ends the record, is essentially the beginning of the story. But it's the last thing you hear. It's a very powerful piece of work."
The final track from undun is split into four parts, as ?uestlove said. You can grab the first two parts – "Redford" and "Possibility (Movement 1)" – here, with another at Stereogum. Wait for the album on December 6th to hear the finale.