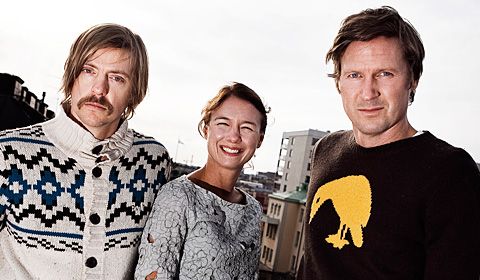 MP3: Acid House Kings – (I'm In) A Chorus Line
Swedish indie-pop group Acid House Kings released a new single, "(I'm In) A Chorus Line", to celebrate Christmas and the end of a busy year, which was particularly busy for group. Labrador also released a Dave DaG remix of the track, also available for free here.
Acid House Kings called this "their busiest year ever". They released their excellent fifth album (Music Sounds Better With You), put out the "Heaven Knows I Miss Him Now" single (a collaboration with Dan Treacy and Television Personalities), and were responsible for "the first indie-pop iPad album ever" with the Music Sounds Better Remixed remix EP.
As we all wind down from busy years, Christmas-themed songs hold a certain comfort. It makes us realize that, at least for a few moments, we can put our minds at ease — especially with the accessible key-led chimes of Swedish pop. Perhaps it's the contagious impact of pop music from the region, or maybe it's those bittersweet Scandinavian winters. Either way, Sweden surely knows how to make holiday feelings resonate.