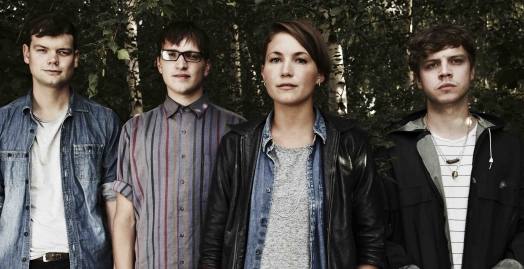 When The xx won the Mercury Prize in 2010, the UK knew they had a winner. When "Shelter" became a pivotal track to feature on mixed CDs everywhere, there was a real sense that an alternative and edgy group had propelled into the highly recognizable.
I think the next one is about to emerge. Resonating a soulful and ethereal sound, Woman's Hour may sound like a feminist lecture run by Germaine Greer, but they are so much more than that. It's displayed in their debut offering "Jenni" and "Human". The two tracks go together effortlessly with assured finesse. The tracks were recorded in Leeds by Wild Beasts producer Richard Formby.
Jenni / Human is a very stripped-down combination that grows qwith pace, but never enough for it to lose its powerful grip — or the intoxicating rush of subdued ambient electronica it initially presents. "Human" has definite similarities to Warpaint. "Jenni" is vibrant and attention grabbing, but not in an outwardly distracting way. It's non-intrusive, yet memorable. The catchy riff sticks in your head long after the three minutes you spent tapping your foot, nodding your head, and embracing the instantly accessible hooks. The only female in the band, Fiona Jane, has a real luscious and rich tone to her voice. Smooth like caramel.
RIYL: Vampire Weekend, Martina Topley-Bird, St. Vincent, Portishead, Jens Lekman, The xx, Explorers Club, Wild Beasts, Kate Bush, Massive Attack, Warpaint