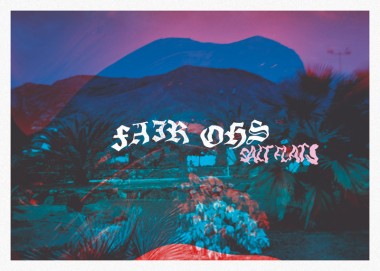 Fair Ohs have been drumming up some press lately with a plethora of East African-inspired garage punk releases, ranging from 7″ singles to distributed cassettes. Despite their East African influences, Fair Ohs' sound isn't too distant from the recent alternative pursuits of Male Bonding, Women, and Real Estate. A touch of psych-rock keeps it all interesting; intricately bouncy guitar progressions are exceptional to the point of somewhat overpowering the rhythm section, which transitions from snare-based minimalism into arena-ready blasts in a pinch. It all works very well together for this promising East London trio.
"Just let yourself be overwhelmed," the vocals reverberate on lead single "Salt Flats". The guitars resonate with a sitar-y effect that jangles and bounces over tinny percussion and constanty reverberating bass. The breakdown in the final is led by swift guitar arpeggios and frantic drums, though the subdued vocals remain at a similar tone. It's a winner, for sure.
Copies of the single from the X-Ray web site will be mailed out with personal messages from the band scribbled on the back, along with downloads of "Salt Flats" and bonus track "Gold Hill".
And here's another one of their tracks that generated plenty of love on Hype Machine: