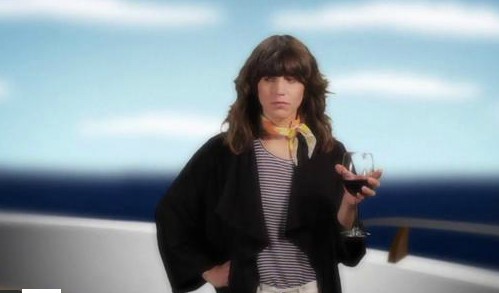 The video doesn't embed for some reason, so watch it here.
Fiery Furnaces' Eleanor Friedberger released her first solo album, Last Summer, this past July to glowing reviews. It featured an all-star cast of Matt Asti (MGMT), Ahmed Gallab (touring member of Yeasayer & Caribou), and John Eatherly (Be Your Own Pet & Turbo Fruits, as well as many excellent songs — like "Heaven". She released the video for that one in particular today.
In the colorful video for "Heaven" (view), Friedberger takes the daring approach of singing directly into the camera's lens, approaching the sort of intimacy that is more often mocked than conquered. It's a silly and lighthearted video at first, but later delves into deeper aspects of our favorite vices with the creativity expected of either Friedberger sibling. How does lust turn into theft, and consequently gambling? Illustrations that come to life (think A-Ha's "Take on Me") can help you see.
The video has an oddball sense of humor that isn't too far from what you'd find on the IFC show Portlandia, starring Fred Armisen (SNL) and Carrie Brownstein (Sleater-Kinney). I recently watched the first season and am on to the second, and it's definitely a lot of fun. It's very appropriate that Friedberger will tour with the cast, beginning February 19th in Philly. The show previously featured the likes of Colin Meloy, Aimee Mann, and James Mercer, so add Eleanor to that list.
Also: You can download Friedberger's live EP for free by subscribing to her mail list below:
the Eleanor Friedberger band on tour:
Feb 2 San Diego, CA Casbah
Feb 3 Los Angeles, CA Troubadour
Feb 4 San Francisco, CA The Independent
Feb 7 Portland, OR Mississippi Studios
Feb 9 Seattle, WA The Crocodile
Eleanor solo as "Special Guest Musician" on Portlandia tour:
Feb 19 Philadelphia, PA Trocadero
Feb 20 Boston, MA Berklee Performing Arts Center
Feb 21 Washington, DC 9:30 Club
Feb 22 Durham, NC Carolina Theatre
Feb 23 Atlanta, GA Variety Playhouse
Feb 24 Nashville, TN Marathon Music Works

MP3: Eleanor Friedberger – My Mistakes

MP3: Matthew Friedberger – The Comforts of the Coffin