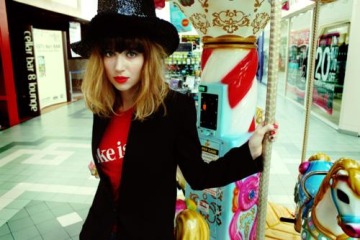 UK alt-pop artist Foe seems to have perfected the art of amalgamating dark and delicious dream-pop with powerful electro-rock energy. Indeed, the passion and fight embedded deep within Foe's sound makes it truly unique and current; there's something about girls with clown-like make-up playing instruments that screams creativity, and this is creativity at its most entertaining and innovative.
With a collection of well-received work already behind her, and an album entitled Bad Dream Hotline just released to major acclaim, Foe (aka Hannah Louise Clarke) is in an enviable position. She has been picked up by Vertigo Records (a division of Universal Music) and has favorable tour reviews circulating online. Nifty.
There's a lot more to this girl than face paint and big dirty rockin' beats. This is not a simple recommendation; it's thoroughly important that you check this girl out and make space for her in your library. Believe the hype that will grab you after one listen to single "Deep Water Heartbreaker". There are few female artists in the UK that are riskier and more exciting than Foe right now. Stick that in your ears and listen.
Download the album here.

MP3: Foe – One Man Down

MP3: Foe – A Handsome Stranger Called Death