Posted
February 2, 2012 by Mike Mineo
in
MP3: Deerhunter – "Curve"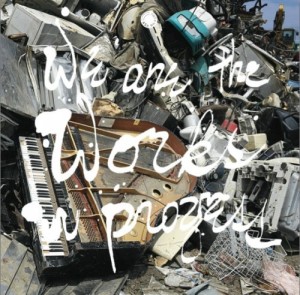 MP3: Deerhunter – Curve
We Are the Works in Progress, Blonde Redhead's star-studded compilation to benefit Japan's recovery from the March 2011 tsunami and aftermath, has already brought the goods. Four Tet's contribution to the release, "Moma", debuted in December, revealing a very aquatic-sounding instrumental effort with brassy moog synths, ambient pad effects, and airy keyboards that mimicked water droplets.
Deerhunter's contribution to the release, "Curve", is very much in the same vein. Apart from it being instrumental, a similarly aquatic feel is achieved. Serene synths slowly traverse through a landscape filled with minimal interruptions. And when the main synth waves are interrupted, it's in the form of a sonar-like beep. It's easy to picture to dolphins pushing forward. Choppy percussion is surprisingly implemented in the final minute, providing a subtle ending to a graceful song. There are few Deerhunter songs to stylistically compare it to, but Bradford Cox's other project (Atlas Sound) pushed to this direction with Parallax bonus tracks "Quark Part 1" and "Quark Part 2".
It seems that fellow collaborator Ryuichi Sakamoto is inspiring many musicians on this release. The sounds from both Four Tet and Deerhunter recall Sakamoto's more ambient works.
We Are the Works in Progress is out February 7th, and available for pre-order now. All proceeds from sales will benefit the Japan Earthquake Relief Fund and Architecture for Humanity.
What a bunch of big names…
Four Tet – Moma
Karin Dreijer Andersson – No Face
Terry Riley – G Song
Nosaj Thing – Nightcrawler
John Roberts – Berceuse
Blonde Redhead – Penny Sparkle
Pantha Du Prince – Bird on a Wire
Broadcast – In Here the World Begins
Liars/Blonde Redhead – Drip
Deerhunter – Curve
Stalactite – Stalagmite
John Maus – Castles in the Grave
David Sylvain/Ryuichi Sakamoto – Bamboo House
Interpol – Song Seven