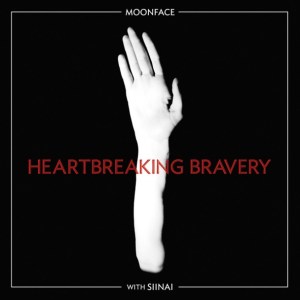 MP3: Moonface – Headed For The Door
Spencer Krug released another song from his current project, Moonface. "Headed for the Door" is off Moonface's upcoming album With Siinai: Heartbreaking Bravery, out April 17th on Jagjaguwar. Another song from the album, "Teary Eyes and Bloody Lips", premiered in February. Krug recorded the album in Finland with Helsinki-based kraut-rockers Siinai, whose previous incarnation Joensuu 1685 toured with Krug's Wolf Parade in 2009.
"Headed for the Door" features a continuously ominous synth backing, with occasional percussive click-clacks setting it up like an Old Western showdown. "And I head for the door," Krug sings as a string-synth dramatically emerges. "I have seen her move this way once before," he continues, "I head for the door." One signature aspect of Krug's songwriting is his knack for build-ups, and anensuing explosion. "She was searching for an answer, but the answer was a war, I head for the door," he sings before an jubilant eruption of guitars. It's an epic, cathedral-like sound that fits Krug's piercing yelp like a glove. Toward the conclusion, spoken-word is laced around a flurry of guitars and wavering distortion, giving this epic the stunning finale it deserves.
I found the first Moonface album to be disappointing compared to Krug's Sunset Rubdown releases, but "Headed for the Door" suggests With Siinai: Heartbreaking Bravery is a retreat from the marimba-based developments of Marimba & Shit Drums, and more like what Krug does best.
With Siinai: Heartbreaking Bravery tracklisting:
01 Heartbreaking Bravery
02 Yesterday's Fire
03 Shitty City
04 Quickfire, I Tried
05 I'm Not the Phoenix Yet
06 10,000 Scorpions
07 Faraway Lightning
08 Headed for the Door
09 Teary Eyes and Bloody Lips
10 Lay Your Cheek on Down