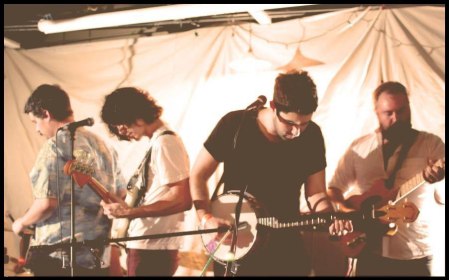 MP3: Day Joy – Talks of Terror
Michael Serrin and Peter Michael Perceval craft haunting folk music with bursts of noise-pop and rock, evidenced best by the stunning "Talks of Terror". If the pace seems plodding at first, allow the beauty and lushness of its clangy acoustics, airy organs, and gentle percussive kick to take hold. The arrangements are very easy to got lost in, and it's complemented nicely by Serrin's voice, which ascends into a piercing howl that throws the song into an emotional frenzy, particularly when he sings "You are, oh, oh ohh." It's a stunning track that earns your attention mid-way through, only to get better and better.
The gentler and less explosive, though equally enjoyable, "Animal Noise" also represents the name of the band's new EP. Animal Noise includes this track, "Talks of Terror", and two others — "Bone and Bloody" and "Destroyer". The title track earns favorable comparisons to Fleet Foxes or the recently featured Warm Weather. It's a beautiful and well worthwhile effort from the Orlando-based duo.
The Animal Noise EP is $5 on Bandcamp. They also have a full-album download link here.