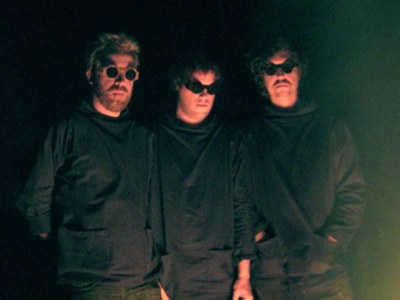 MP3: New Build – Do You Not Feel Loved?
MP3: New Build – Finding Reasons
MP3: New Build – Misery Loves Company
New Build is a trio built from Hot Chip and LCD Soundsystem, their sound falling somewhere in between the former's frenetic whirls and the latter's suave developments. The result sounds like a solo project from Martin L. Gore, who takes the lead on Depeche Mode's more intimate and heartrending efforts, or a relaxed sequel to Twin Shadow's Forget. Many of their songs seem like an homage to Gore, Vince Clarke, and other essential synth-pop mavens. Exchange Twin Shadow's post-punk percussion for marimbas and gentle snares, and you come somewhere close to New Build. Two of its members, Felix Martin and Al Doyle, are in Hot Chip, and Doyle has performed a number of instruments at LCD's live shows. The other member, Tom Hopkins, brings experience as a respected producer and DJ. One of his many roles is as an engineer at Lanark Studios, the East London recording space of Martin and Doyle.
The Gore comparison is heard prominently on "Last Gasp", where a simple piano line and trickling drums accompany a sullen vocal performance. The additional drums, blaring synths, and slight string movement during the second half is a noticeable uptick, but the song retains its minimal and personalized feel. You have to love the tropical marimbas at the end too… unexpected and tactful. "Finding Reasons" is a mellowed-out piece of electro-pop, more in line with the delicate post-punk maneuvering of Twin Shadow. This is another track that begins minimally, but evolves into something more substantial. This time a wavering organ and sharp guitar licks add another dimension, the latter with a touch of distortion and feedback. And yet again, marimbas end the track.
Of course, New Build do not present entirely understated affairs. The club-ready twinkle at the lead of "Silence and Muttering" seems prime for a dance club at 1AM, its shimmering qualities and hectic bass-synths promoting infectiousness without detracting from the driving ambience. With its futuristic tone, "Silence and the Muttering" is less filled with hooks and more intent on establishing energy. You'd expect something like it from Erasure.
Their debut album, Yesterday Was Lived and Lost, is out April 3rd on their own Lanark Recordings. You can expect plenty of Euro-pop with post-punk infusions, along with the club-driven production touches like string-synth flourishes and disco-laden synth pads. New Build have a ton of tracks available for streaming on their SoundCloud, so head on over and check it out.