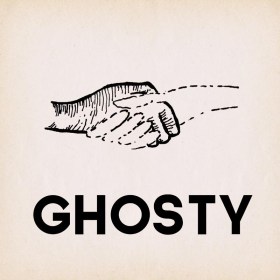 "You Shut Me Out" is a tightly infectious effort from Ghosty's third album, a self-titled effort out April 17th. You may remember the Kansas-based group from four years ago, when I wrote about their excellent debut Grow Up or Sleep In. They produce concise, quality indie-rock with tight hooks and shades of Dr. Dog, Rogue Wave, and the Flaming Lips.
Frontman Andrew Connor has an excitable voice that's a cross between Jim James' nasally yet anthemic whirl and Wayne Coyne's wavering punch. Speaking of Coyne, Ghosty are more than big fans of Flaming Lips. They're collaborators. Coyne appeared on the Ghosty track "Clouds Solve It", and Ghosty provided additional instrumentation on The Flaming Lips' "Ego Tripping at the Gates of ill", a great track off of the classic Yoshimi Battles the Pink Robots. It's a fun fact that shows how even someone like Coyne recognizes their talent.
I had a chance to listen to the new album in full, and it's pretty clear this will be the one that breaks them out. Key tracks include the swirling key-led "This Wolf", rowdy crunch-rocker "You Saved Me", and the trickly MMJ-inspired "Earthly Scheme". "Team Up Again" also earns kudos for sounding like an enchanted indie-pop Christmas ballad. Some excellent stuff ahead. Expect a review closer to the April 17th release date.