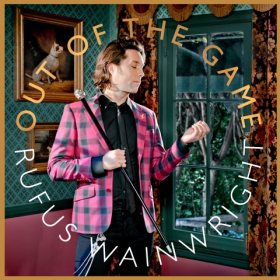 Rufus Wainwright – Out of the Game
"Out of the Game" is Rufus Wainwright's first single off his upcoming album of the same title, out May 1st via Decca. The track is more of a chugging rocker than the string-laden ballads we've come to expect, likely a product of Mark Ronson's collaborative work. A gospel choir and old-timey rock 'n' roll collide for a smooth-moving, twangy good time. Wainwright is known for his stylistic diversity, so a single track probably isn't indication of the album's cumulative sound. It's a great first reveal though.
The past year or so has been a dramatic time for Wainwright; he gave birth to his daughter Viva, experienced the death of his mother (and talented songwriter) Kate McGarrigle, and got engaged to his partner Jorn Weisbrodt. For the lyrically intimate singer/songwriter, these experiences and many more are sure to bleed into Out of the Game.
Pre-order the album here.