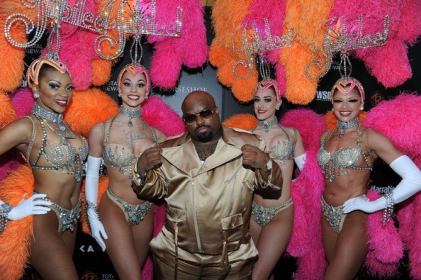 Cee-Lo Green's new visual project, "LOBERACE", is a colorful and grandiose journey through the decades of music. Looking at everyone from The Rolling Stones to Prince, the event is designed exclusively for Planet Hollywood Resort & Casino, where Cee-Lo is on residency. Tickets went on sale last week for several dates in August, May, and one on November 30th, just before the show's December run on the 1, 7, 8, 14, 15, 28 and 29.
Unless you were a member of Cee-Lo Green's Fan Club, being a member of Total Rewards was the only way to nab tickets early. As mentioned in March, I've been working with the Total Rewards program, with 100+ grand prizes and 80,000+ other Total Prizes, in addition to many music-related perks. This was one of those perks. Join the loyalty program for free, and then play the game that just launched. For some free plays on the game, enter in this code: 3RHK4G.
Planet Hollywood Resort & Casino is the newest member of the Caesars Entertainment family, and is a full partner in Total Rewards. The hottest property on the Las Vegas Strip with 2,500 beautifully designed guest rooms and suites showcasing the best views in town, Planet Hollywood encompasses more than 100,000 square-feet of gaming, several lounges, nine restaurants including KOI, Strip House, the award-winning Spice Market Buffet and LA's Pink's Hot Dogs, and the Planet Hollywood Spa by Mandara.
Here's a peek of the show's flashiness, with track "Want You (Hold On To Love)":

MP3: Cee-Lo Green – You Promised Me Love

MP3: Cee-Lo Green – Cho Cha the Cat (with the B-52s)

MP3: Cee-Lo Green – Closet Freak
I am honored to be an Influencer for the Total Rewards brand. Material and/or financial incentives may be received as a result of my involvement.