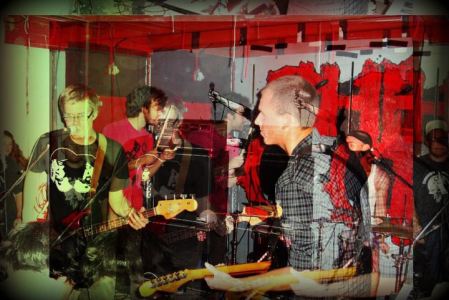 Inspired & the Sleep – Take Pills (Instructed Bliss)
Inspired & the Sleep – Running
Inspired & the Sleep – While We're Young
Lifeguard sleeping, girl drowning. Lifeguard daydreaming, quality songwriting. San Diego-based Inspired & the Sleep are a trio of lifeguards, a profession of fluctuating excitement and lulls. Weeks could go by without someone needing to be rescued, or an abrupt riptide could find their jobs absolutely essential. Any downtime is used wisely, at least by Inspired & the Sleep. These guys have a tendency of writing songs while staring out into the blue abyss. Their loop-based recordings rely on pre-existing material, but once embedded in their minds Inspired & the Sleep transform it into something fascinating, bubbly, and infectious; it's something the mind can recycle over and over again, especially when staring at a relaxing marvel like the Pacific Ocean.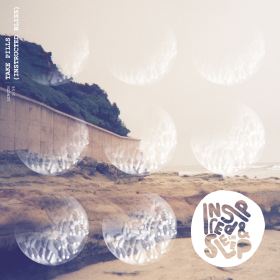 The sample-driven works of tUnE-yArDs, Yellow Ostrich, and Emily Wells is a good reference point, though Inspired & the Sleep are unique in their slightly tropical and breezy feel, something they attribute to long days on the beach. Perhaps the sleeping schedule (or lack thereof) of frontman Max Greenhalgh, AKA 'Eyelid Kid'. Apparently an insomniac, Greenhalgh can often spend day and night crafting his songs, with the aim to "build songs out of live recordings looped and seamlessly blended with expressive vocals, inventive sounds, and compelling melodies that transport listeners to a specific emotional state/feeling." The act and concept of sleep certainly is an interesting one for Greenhalgh.  "The name of the band was formed around the concept of feeling completely inspired to take hold of life and be the best person you can be the next day before going to bed," he said. "Then waking up as to reset those aspirations with normalized motivation and just more of the same. I've been an insomniac for the last three years or so. Therefore I'd spend countless nights unintentionally staying awake in a subconscious effort to keep the inspiration alive."
Inspiration is certainly alive in songs like "Take Pills (Instructed Bliss)", the third single off Greenhalgh's solo album Teenager.  ["Take Pills"] is sort of a sarcastic dedication to how our society, ravers, even myself functions mentally, socially, and physically through the use of pills," he explained. "It was put together through a series of live recorded percussion loops, a drum machine setting from my toy Casio keyboard, flute, uke, and bass." The tropical rhythm section clangs along as Greenhalgh's voice, resembling a nasally Zach Condon, reflects twinkling keys that settle cohesively over the steady drum section. The flute after the first chorus is beautifully implemented, as is the tribal-like choral backing that accompanies it. Then we get some glitch-pop before the grand finale, a consummate presentation of the group's Afro-pop and sample-led leanings. Also recommended is the album's other two singles, "While We're Young" and "Running".