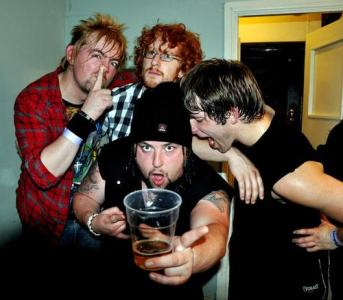 MP3: A Joker's Rage – Disc-Over
A Joker's Rage mix full-on classic influences and instrumentation with sarcastic imagery to great effect. Painted up like jokers on the stage, one might be forgiven for thinking (at first glance) they are some terrifying Insane Clown Posse (shudders) rip off. But, no! Thankfully!
This four-piece come off like a chaotic riff-fuelled mix up of Red Hot Chilli Peppers, Rage Against The Machine and Aerosmith, with a light sprinkling of The Police added in for good measure. But they possess a look that appeals to a generation of much younger listeners. I'm not saying that younger music fans of today are directly influenced by a band's image at all… but of course we know that sort of thing helps.
Anyhow, worth a listen is "Disc-Over", the opener to their 2010 self-titled debut. This genre-bending, mind-boggling mash of credible sounds works hard on the ears with colossal guitar work, tribal drums, and a sneering punk energy. Meanwhile, "When In Rome" retains a funk-rock undercurrent; this one works like an intense and anthemic Feeder at their mid-'90s best. Top stuff from this weird lookin' bunch of class-A clowns. For real though, don't judge this book by its cover. A Joker's Rage deserve to occupy an equal space in your mind, right next to the aforementioned icons of pure rock goodness.